Mystery/Thriller Book Reviews
The Internet Writing Journal
,
October 1998
Page One of Five
Riding the Snake by Stephen J. Cannell
William Morrow, Oct., 1998.
Hardcover, 383 pages.
ISBN: 0688158056.
Ordering information:
Amazon.com.
|
Amazon.co.uk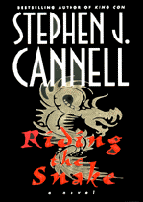 Devastatingly handsome playboy Wheeler Cassidy has just received the shock of his life. His beloved little brother, who is a politically connected attorney in L.A., has just been murdered under mysterious circumstances. More used to downing cocktails and picking up rich socialites at the exclusive Westridge Country Club, he finds himself in the middle of a murder investigation headed by Tanisha Williams, an African American detective who made it out of the South Central L.A. ghettos by grit, determination and drive. Tanisha and Wheeler are an unlikely couple -- they both grew up in L.A., but their childhoods could not have been more different. As the murder investigation progresses, it becomes clear that Wheeler's brother was involved in some very heavy illegal dealings with a notorious Chinese Triad. Their investigation will take them from the backstreets of the hood in South Central to the mysterious walled city in Hong Kong, where violence is common and regard for human life is almost non-existent. It is up to Tanisha and Wheeler to put aside their differences to find the killer and stop a catastrophic event which could destroy most of Southern California.
Riding the Snake
is a thrill a minute ride which takes readers into the fascinating world of the Chinese criminal underworld, telling the story of the river of illegal drugs, immigrants and money which flows into the U.S. from China. The interaction between the two main characters makes for interesting and compelling reading -- the character of Tanisha is especially well-done. This is Cannell's best work yet. With rich detail, a gripping plot, edge of your seat suspense and a fascinating look at some very real political issues,
Riding the Snake
is a must-read for anyone who enjoys thrillers, mysteries or just a well-told story.
---
A Bone of Contention by Susanna Gregory
St. Martin's Press, 1997.
Hardback, 375 pages.
ISBN: 031216792X.
Ordering information:
Amazon.com.
|
Amazon.co.uk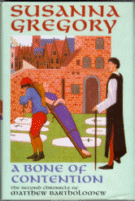 A Bone of Contention
is Susannah Gregory's second mystery novel that features that amiable, scientific genius, Matthew Bartholomew, as the chief investigator of medieval mischief in and around the venerable university town of Cambridge, England. One could find no author better qualified to guide through the narrow back streets and fetid fens of fourteenth century England than Ms. Gregory, who in real life has been a police officer, writer of scholarly books on medieval houses, castles and history and who currently lives near the university. In addition our author has earned a Ph.D. from Cambridge and has worked as a research fellow there. One feels compelled to add that Susannah Gregory is a nom de plume of this fascinating writer. An added bonus of this book is that this author tells her tale in well written prose that moves along at a good pace but pauses along the way to point out interesting details of the period that entertain and enlighten.
Armed with all this fascinating dossier, the reader can trustfully follow this guide into an eye opening tour of the medieval mind as it tries to bring reason and logic to bear on crimes committed in a landscape that ranges from the magnificent to the putrid. Ms. Gregory creates a protagonist who is so far ahead of his contemporaries that he fails to see any use in doing star charts for his patients, and who also is so literal in his scientific cast of mind that he fails to foresee any difficulties that might arise from inviting both an eligible young lady and a well known harlot as his dinner guests at the college festival. The good doctor's friend and colleague is the sagacious, and faithful Brother Michael who, although totally unencumbered with 20th century standards of personal hygiene and healthful eating, is always there to bring the puzzled physician's reasoning down to a more pragmatic level. These two sincere but often puzzled detectives living at the dawn of forensic science become increasingly more attractive to the reader as the plot evolves, and the final solution shows the reader a fascinating example of criminal psychosis as it plays itself out in the Age of Faith. You will understand the fourteenth century mind far more when you have read this book, and you will also have enjoyed a very good mystery.
--Sarah Reaves White
---
Mystery Reviews
Page One | Page Two | Page Three | Page Four | Page Five

Click Here to Return to the Book Reviews Index