Fantasy/SF Book Reviews
The Internet Writing Journal
,
October 1998
Neverwhere by Neil Gaiman
Avon, November 1998.
Paperback, 388 pages.
ISBN: 0380789019.
Ordering information:
Amazon.com.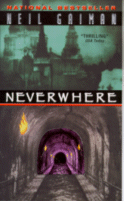 Richard Mayhew came to London to make his fortune. He lands a job as a stockbroker, but he doesn't seem to be making much progress. His beautiful but cold fiancee Jessica is always pushing him to better himself, and, a kind fellow, he feels lucky to have her. One evening while on his way to a dinner with Jessica to meet her wealthy and influential boss, Richard nearly trips over a young woman who is bleeding from a switchblade wound. Over the loud protests of his outraged fiancee, Richard takes the woman home and cares for her. Her name is Door, and she disappears after she recovers somewhat. After Door's disappearance, Richard's life goes straight to Hell. He meets two grim and frightening personages who are looking for Door, then finds that no one can see or hear him in the normal world. He has fallen through the cracks into London Below -- a strange, magical and altogether frightening place which he must navigate in order to get his life back.
Neverwhere
is an absolutely thrilling and brilliant dark fantasy novel from Neil Gaimon, author of the popular Sandman series. The world of London Below is peopled with a colorful and sometimes frightening characters, both human and not. The dialogue is crisp, witty and funny, the literary references fly thick and fast, with nods to outstanding authors from Charles Dickens to Douglas Adams, and the pace is breathtaking. An absolute gem. Highly recommended.
---
Parallelities by Daniel Wallace, Illustrations by Brandon McKinney and Alan Dean Foster
Del Rey, September 1998.
Paperback, 314 pages.
ISBN: 0345424611.
Ordering information:
Amazon.com.
|
Amazon.co.uk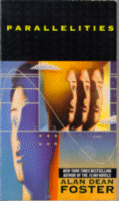 Max Parker is just your usual tabloid journalist from Southern California. His typical day consists of helping a bogus medium scam a mother into thinking she is contacting her dead son and thinking up new stories to sell to the public. When he heads off to Malibu to interview a crazy rich inventor, he has no inkling of what fate has in store for him. After observing an experiment of the inventor's new machine, he somehow acquires a field around him that affects the multiple parallel worlds which surround us. Max finds himself in a series of Earths with different realities -- some good, some terrifying. Somewhat flaky before the mishap, he must reach within himself to find the strength and courage to make his way back home.
Alan Dean Foster has crafted an interesting story in which the certainty in the continuity of the present environment totally disappears. Foster shows Los Angeles in several different incarnations -- one wishes he had spent a bit more time in the Utopian vision of L.A. where the skies are clear and the people are friendly and helpful, even to disheveled inter-dimensional travelers. Foster afficionados and fans of the television show
Sliders
will love this book.
---
Scent of Magic by Andre Norton
Eos, October 1998.
Hardcover, 361 pages.
ISBN: 0380976870.
Ordering information:
Amazon.com.
|
Amazon.co.uk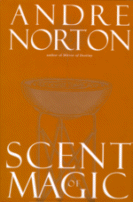 In a fantasy Dukedom, the young woman Willadene possesses a highly prized gift in her world -- a highly developed sense of smell and sensitivity to the magical odors and breezes that populate this world. Aromas can bring evil, good, love, magic or death, and a gift like Willadene's has not been seen in that world for a very long time. Orphaned by a terrible plague, she has lived a hard life as a virtual servant until she is rescued by her mentor, the local herbalist, Dame Halwice. Soon Willadene's skills will carry her into the Ducal Court and into the midst of political intrigue, danger and romance as an evil presence long thought dead returns and seems to be inhabiting the royal enclosure. Willadene must use all of her skills and courage to help the Duke and his kind and lovely daughter defeat the evil that threatens to destroy their way of life.
Master storyteller Andre Norton yet again weaves her magical spell, casting a web of enchantment with her latest novel. Her prose is as vivid and lyrical as ever and the storyline about the young girl Willadene and her counterpart, the Lady Mahart, is skillfully drawn. The magical elements are fresh and intriguing and the overall atmosphere is moody, at times dark, at other times uplifting. Another masterpiece from Grandmaster Norton.
---
Click here for Horror/Fantasy/SF Reviews Page One
Return to Book Reviews Index