Reviews of Writing Books
The Internet Writing Journal
,
October 2003
Page Two of Two
The Marshall Plan for Getting Your Novel Published by Evan Marshall
Writer's Digest Books, June, 2003
Hardcover, 242 pages
ISBN: 158297196X
Ordering information:
Amazon.com
|
Amazon.co.uk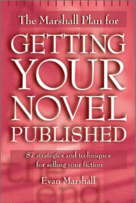 Literary agent and bestselling mystery novelist Evan Marshall has once again provided an excellent guide for writers hoping to get their novel published. Writers will be motivated after reading Marshall's many tips to help them avoid having their novel rejected by an editor or agent because of an easily avoided mistake. The first part of Marshall's latest book contains tips and suggestions for getting your manuscript as perfect as it can before sending it on its way for possible acceptance by an agent or publisher. Once you have your dialogue tweaked and your prose polished, Marshall focuses the writer on perfecting his manuscript submission techniques; he also gives instruction as to how and when to approach editors. In this section, Marshall also provides helpful outlines for creating the perfect synopsis, query and cover letters. More rejection pitfalls can be avoided by following Marshall's plans for perfecting your submission letters and making them the way agents and editors like to receive them. The third part of the book provides advice about contracts and working with editors. An appendix in the book provides a glossary and helpful sample query and cover letters. This book is a follow-up to Marshall's other two excellent writing books,
The Marshall Plan for Novel Writing
and
The Marshall Plan Workbook
. Authors will appreciate Marshall's well-planned strategies and templates, as well as his practical fact-based advice. Highly recommended.
---
Writer's Guide to Places by Don Prues and Jack Heffron
Writer's Digest Books, December, 2002
Trade Paperback, 402 pages
ISBN: 1582971692
Ordering information:
Amazon.com
|
Amazon.co.uk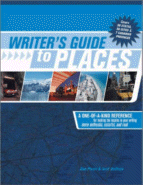 You're writing a mystery and your main character needs to navigate the streets of Seattle and have a shoot-out at the Pike Place Market. The problem? You live in Dubuque and you've never been to Seattle. Enter the
Writer's Guide to Places
, which provides detailed information about states, cities and provinces in the United States and Canada to help writers quickly find the statistics or regional information they need. Each geographic listing in the book includes information written specifically for writers. For example, the Sacramento listing includes information about Sacramento facts and peculiarities your character might know, local grub your character might love, pathetically sad things your character is ashamed of in Sacramento and where your character might go if they are rich, a nature lover or a middle-class family man. The book also includes suggestions for interesting settings or scenes and a list of additional resources including books and websites. By offering both basic details about a location and more obscure information that only a local resident would know, the
Writer's Guide to Places
is a very handy and time-saving book for writers to have at their disposal.
---
Writing Book Reviews
Page One
|
Page Two
Return to Book Reviews Index