Reviews of Writing Books
The Internet Writing Journal
,
October 2003
Page One of Two
The American Directory of Writer's Guidelines compiled by Brigitte M. Phillips, Susan D. Klassen and Doris Hall
Quill Driver Books, May, 2003
Trade Paperback, 726 pages
ISBN: 188495619X
Ordering information:
Amazon.com
|
Amazon.co.uk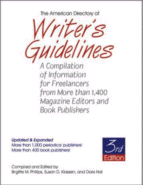 This book contains a huge collection of complete writer's guidelines from the publishers. These are not market listings that are written up about a particular publication, but the actual guidelines that the publisher provides to writers interested in writing for the publication. Over 1,400 guidelines are provided in the book. The writer's guidelines are listed alphabetically, but the book does provide a topical index which allows the writer to find specialty markets in the topic index and then leaf through the book to find their specific guidelines. This a very valuable book containing thousands of writer's guidelines for top publishers. This can save writers lots of money in postage and a lot of time in paperwork from sending endless SASE requests for copies of the publishers latest writer's guidelines.
---
How to Become a Fulltime Freelance Writer by Michael A. Banks
The Writer Books, April, 2003
Paperback, 223 pages
ISBN: 0871161974
Ordering information:
Amazon.com
|
Amazon.co.uk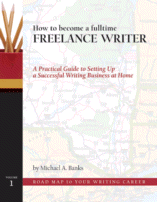 Many people desire to become a fulltime freelance writer; the thought of being able to work for yourself from your own home is compelling. In this book, Michael A. Banks, a successful freelance writer himself, helps writers understand what it takes to become a fulltime freelance writer. Banks covers everything the freelance writer will need to know -- from what it takes to be a freelance writer (including writing ability and attitude) to how to set up your freelance business and manage budgets and taxes. Other topics covered in the book include keeping records and tracking submissions, finding time to write, writer's block, finding markets and agent-writer and editor-writer relationships. Banks doesn't sugar coat it for would-be freelancers; he explains how freelancing can be an arduous and unusual occupation. But if you have what it takes to stick with it, then Banks has provided the road map for you. Highly recommended.
---
Writing Book Reviews
Page One |
Page Two
Return to Book Reviews Index