Romance Book Reviews
The Internet Writing Journal
,
November 2005
A Darker Crimson by Carolyn Jewel
LoveSpell, November, 2005
Paperback, 373 pages
ISBN: 0505526581
Subgenre: Paranormal
Ordering information:
Amazon.com
|
Amazon.co.uk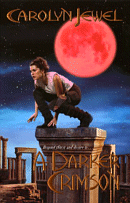 The Crimson City series started by romance author Liz Maverick is now in its fourth installment, a sizzling thriller by Carolyn Jewel. Claudia Donovan is a human cop living in Crimson City (Los Angeles with demons, werewolves, vampires and assorted other denizens) who's had to work hard for everything she has. While she's investigating a brutal murder and questioning the handsome and powerful vampire Tiberiu Korzha, Claudia has the misfortune to catch the attention of demons who have learned how to cross over from their world Orcus into the human realms. Years ago, the demons were sealed behind a barrier so they couldn't come into our world, but they have learned to breach the barrier. Attacked and forced to open the barrier, Claudia's worst fears come true when her daughter is kidnapped and taken to Orcus. Nearly out of her mind with grief but determined to get her daughter back, Claudia decides to team up with Tiber, although Tiber's reputation makes him just as dangerous as the demons who took her daughter. Humans don't live very long in Orcus, so Claudia is running out of time. And she has another big problem: a black-hearted and quite terrifying Bak-Faru demon has just claimed her as his lifemate.
The miniseries format, where a different author writes each related book in the series, has a real danger that at least one of the books isn't as good as the rest of the series or somehow strikes a jarring note. Liz Maverick so far is batting a thousand with the authors she chose to participate in the Crimson City series. Carolyn Jewel is not an author that is known to paranormal romance fans, but all that is about to change with the release of this gritty, passionate adventure that crackles with danger and suspense.
---
Desperate Tigress by Jade Lee
Leisure, November, 2005
Paperback, 342 pages
ISBN 0843955058
Subgenre: Historical
Ordering information:
Amazon.com
|
Amazon.co.uk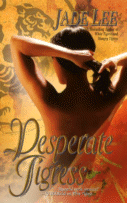 Shi Po is the leader of a mysterious Taoist sect in 1898 China. Female-centric, the sect must remain a secret from the government which treats women as chattel. Shi Po runs a training school for young women of all walks of life who come to the school to learn how to achieve Immortality through sensuality: the very opposite of the ascetic Shaolin discipline. Shi Po is disillusioned: two white women have achieved Immortality under her tutelage (
See, Hungry Tigress and White Tigress
), but Shi Po has not. Her children are grown and gone, and her kind, hardworking husband Kui Yu is a virtual stranger to her. Determined to take her own life, she is stopped by Kui Yu, who demands to be taught the secrets of the Tigress and the Dragon. Kui Yu just wants his wife back, and Shi Po only agrees because in her society she cannot refuse a direct order from her husband. Shi Po has another problem: the furious powerful father of the runaway Shaolin monk she sheltered at her school has come looking for his son. And if he doesn't get what he wants, he could kill both Shi Po and her husband without fear of reprisal.
Jade Lee is known for her super-sensual romances and
Desperate Tigress
is no exception. But at its heart, the book is a story about a husband and wife who have lost each other and how they try to reconnect after their children are grown and gone. Ms. Lee provides a rich, intriguing background which is full of interesting (and sometimes horrifying) cultural details, such as the revolting practice of foot binding. If you're in the mood for a uniquely different, moving story and love a good historical novel,
Desperate Tigress
is an excellent choice.
---
How to Marry a Millionaire Vampire by Kerrelyn Sparks
Avon, August, 2005
Paperback, 371 pages
ISBN 0060751967
Subgenre: Paranomal
Ordering information:
Amazon.com
|
Amazon.co.uk
Shanna Whelan is a dentist who is in the witness protection program because she witnessed a mob hit. Now on her own in the city, she gets a call letting her know that the mob has found her and that her days are numbered. While she's trying to call the U.S. Marshall assigned to her, in walks Roman Draganesti, a devastatingly handsome vampire that needs some dental work (his fang was wrenched out in a most unusual accident.) Determined that his new dentist not be murdered by thugs, Roman rescues her and then has a terrible time explaining why he needs a new fang. Because Shanna doesn't believe in vampires. And because of the traumatic experience she had witnessing the murder of her best friend, she's also terrified of blood. Can a dentist who's afraid of the sight of blood have a future with a 300 year-old vampire who needs blood to survive?
Paranormal and humorous contemporary romance are the hottest thing going on right now in the romance publishing business. Finally, Avon, the leader in historical romances, has decided to test the waters of the paranormal with
How to Marry a Millionaire Vampire
. Kerrelyn Sparks starts with a funny premise in her debut novel: the vampire that needs a dentist and the dentist who is afraid of blood fall in love. Roman is especially appealing. He's a different kind of romance hero, and not just because he's a vampire. He's a scientist who spends more time in his lab than anywhere else; he invented artificial blood so vampires don't have to bite humans. He's a handsome geek with a heart: and that's unique and fresh. For those who enjoy a lighthearted romance with a likeable heroine and a funny worldview, Kerrelyn Sparks should be on their "must buy" list.
---
Return to Book Reviews Index