Lifestyle Book Reviews
The Internet Writing Journal
,
November 2005
Author 101: Bestselling Book Proposals by Rick Frishman and Robyn Freedman Spizman
Adams Media, November, 2005
Trade Paperback, 249 pages
ISBN: 1593374127
Ordering information:
Amazon.com
|
Amazon.co.uk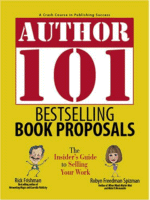 Mastering the art of the book proposal is an essential skill for any writer. Other than a possible query letter, the book proposal is the first information about your book that an agent or editor sees. There is a proper procedure for book proposals that you must understand and follow -- otherwise your book is highly unlikely to be published by a major publisher. Book proposals give you the opportunity to sell your book and authors Rick Frishman and Robyn Spizman help you make the most of it in
Author 101
. Both authors have a great deal of experience in publishing. Rick Frishman hosts sales seminars for writers and has written books about writing including the excellent
Guerilla Marketing for Writers
. Robyn Spizman has authored 75 books and founded a public relations firm called the Spizman Agency. Their advice in
Author 101
is informative and straight forward. They teach you what goes in your book proposal and how to write it in such a way that will pique the interest of agents and editors. They also provide motivation. The authors insist that you must have a positive attitude and be disciplined when working on your book proposal.
The authors explain: "Proposals are tests that you must pass in order to convince a publisher to buy your book. Understand the purpose of the proposal and focus on demonstrating to agents and publishers that you have the ability and fortitude to write a successful book in the context they want."
Everything you need to know about book proposals is provided. The text provides detailed instructions about how to prepare each section of your proposal, such as the promotion plan. Extra tips and suggestions are provided next to cheery little cartoon icons that represent Spizman and Frishman.
Author 101
helps authors pick great book titles, avoid first-time author mistakes and write the kind of book proposal an editor wants to see on his desk. Highly recommended.
---
Return to Book Reviews Index