Children's Book Reviews
The Internet Writing Journal
,
November 2005
The Moon Key by J.R. Stampfl
Smooch, November, 2005
Paperback, 250 pages
ISBN: 0843956194
Ages Young Adult
Ordering information:
Amazon.com
|
Amazon.co.uk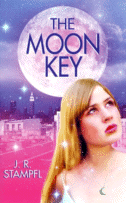 Pre-teen Wendy Hilton has been handed some pretty unlucky cards in life. Abandoned as a baby with a napkin that said "Please take care of her. We'll be back," Wendy has lived with a succession of foster families. She actually likes her current foster family, and enjoys taking care of her three younger brothers. But Wendy has always longed to know who her parents are and why they never came back to get her. One of her few treasures is the silver moon pendant that was around her neck when she was a baby. On her thirteenth birthday, Wendy's life changes forever when she is invited into LATCH (Lunar Arena of Transformation Concentration and Hope), a mysterious organization that operates at midnight all over New York City. LATCH members control moon magic and strive to better themselves. Wendy is anxious to join and find the family she's been searching for all of her life, but there are many tests before Wendy can be admitted into the study program. There is rivalry among the candidates for her to contend with, but she also makes some new friends and learns new skills she never knew she had. She never knows what night is a LATCH night: on those nights she's whisked away at midnight by magic. Her initiation and her lessons take place all over New York City: the Metropolitan Opera House, Grand Central Station and Yankee Stadium. As Wendy learns more about LATCH, she also learns about self-confidence and how to translate her new lessons into her normal daytime life, especially at school.
First-time author J.R. Stampfl does an excellent job of creating the character of Wendy, a sweet girl with a good heart in search of self-confidence. LATCH is an interesting construct: the sessions at LATCH are magical. Although they happen at midnight, no matter how long the adventure takes, everyone always end up back home in bed at the same time they left. This extra time is of great use to Wendy, who manages to lose a few pounds from her fencing, running and other nocturnal adventures.
The Moon Key
presents New York City as a magical, enchanting place that readers will want to re-visit in the upcoming sequel.
---
Vox (The Edge Chronicles) by Paul Stewart, Illustrations by Chris Riddell
David Fickling Books, September, 2005
Hardcover, 500 pages
ISBN: 0385750803
Ages Young Adult
Ordering information:
Amazon.com
|
Amazon.co.uk
The villain Vox Verlix is now a virtual prisoner in his sunken Palace of the Statues where he wavers between lucidity and raving madness. Vox was once the most promising cloudwatcher apprentice of his generation before he became Leaguesmaster and Most High Academe of Sanctaphrax. If there is one thing that Vox knows, it's the weather. And the weather is getting stranger by the day at the Edge: oppressive heat, pressure and ominous storm clouds are now everyday occurrences. Librarian knight Rook Barkwater has the misfortune to visit with the despicable Vox, after his airship crashes in Screetown and he is dragged off to Vox's lair. Rook was on his way back to the library to report the strange lights he saw in the sky and the other odd doings in Screetown before he crashed. Now a prisoner of Vox, Rook faces his greatest challenge yet as he searches for a way to prevent the terrible events that are about to occur.
Rook Barkwater has come a long way since his adventures as an under-librarian in
The Last of the Sky Pirates
. He's fought the evil Guardians of the Night, but he's still young and Vox Verlix is not someone to be underestimated. Rook is an engaging hero; his exploits and the vengeful machinations of Vox make for a captivating tale in this popular series.
---
Return to Book Reviews Index