Reviews of Writing Books
The Internet Writing Journal
,
October-November 2001
2002 Writer's Market Online Edited by Kirsten Holm
Writer's Digest Books, August, 2001
Paperback, 1112 pages
ISBN: 0786867191
Ordering information:
Amazon.com
Not only does the
2002 Writer's Market Online
provide a thorough listing of the paying markets for writers, this version also includes a subscription to writersmarket.com, the online edition of the directory. The combination works well, because the online edition helps keep writers up to date with news markets, ceased publications and changes in editor and publisher staff positions. The online edition includes databases of freelance markets, agents, book publishers, contests, awards, and screenplay markets. The online service also provides a Market Watch feature which includes writing-related news, ask the agent, an online encyclopedia and an online submissions tracker. The website also allows you to view changes to the database, which is an excellent feature. The site is very user friendly and simple to use. The book itself includes all the goodies that you would expect: how-to articles, interviews with editors and experts and the popular market sections which include listings for book publishers, magazines, greeting-card publishers, script buyers and other market opportunities for writers.
Writers who are looking for a way to discover and follow markets, as well as track their submissions will find plenty of value here. By including both a comprehensive book and an online service featuring market updates and agent and market databases, the
2002 Writer's Market Online
is the best combination of print and online market resources money can buy.
The Writer's Market Online
is a necessity for any writer.
---
How to Write: Science Fiction & Fantasy by Orson Scott Card
Writer's Digest Books, September, 2001
Paperback, 137 pages
ISBN: 158297103X
Ordering information:
Amazon.com
Hugo and Nebula award-winner Orson Scott Card is a prolific fantasy and SF writer who also excels at giving helpful advice to writers. He has taught writing courses at universities and writing workshops, including Clarion and the Cape Cod Writers Workshop, and also authored
Characters & Viewpoints
, another writing book. In his latest book for writers, he teaches writers the craft of fantasy and science fiction writing. The book includes five chapters. In the first chapter Card describes the differences between fantasy and SF and the many possibilities they offer writers. In the second and longest chapter, Card covers world-building and helps writers learn the rules of spaceflight, time travel and magic. The third chapter deals with story construction. In this chapter Card introduces the MICE quotient to determine which category your story or novel fits in. He explains that all stories contain four elements: Milieu, Idea, Character and Event; one of these elements generally dominates the story. The fourth chapter covers the writing problems, including problems of exposition and language that writers of fantasy and SF face. The final chapter provides information on the life and business of fantasy and SF writing. Orson Scott Card is a great teacher. Writers will appreciate his thorough teachings about the craft of writing and his explanations of why a writer should or should not do something. Card is also very encouraging in his tone, and helps motivate writers to write. Highly recommended.
---
Poor Richard's Creating E-Books by Chris Van Buren and Jeff Cogswell
Top Floor Publishing, February, 2001
Trade Paperback, 317 pages
ISBN: 1930082029
Ordering information:
Amazon.com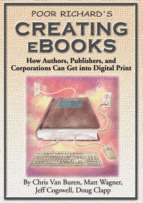 Ebooks, print-on-demand and electronic publishing are publishing options that many authors are now seeking to publish their books. The formats and publishing methods vary greatly. This book covers the different electronic formats and the different publishing methods which are available. It also discusses different ways people can read electronic books. The book discusses several electronic publishers and epublishing services in detail, including Random House, Simon & Schuster, iUniverse, Xlibris, DiskUs Publishing and Sansip Publishing. There is also a section which includes sample epublishing contracts and a chapter on digital rights and copyright. The book includes chapters on marketing and promotion, as well as coverage of business issues of electronic publishing including production, distribution and selling costs. The book also featues links to resources that can help you keep up-to-date on this rapidly changing subject. The book provides a great introduction to the world of electronic publishing and gives a solid overview of the industry so writers can decide how and where to being their self-publishing journey.
---
Return to Book Reviews Index