Nonfiction Book Reviews
Page One of Two
George Bush: The Life of a Lone Star Yankee by Herbert S. Parmet
Scribner, Nov., 1997.
Hardcover, 511 pages.
ISBN: 068419452X.
Ordering information:
Amazon.com.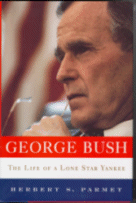 By now the major parts of George Bush's life are well-known. He grew up in a large, happy, orderly household in Greenwich, Connecticut. After graduating from Phillips Andover Academy he joined the Navy to become a highly-decorated pilot during World War II. After the war, he graduated from Yale and moved to Midland, Texas, where he built a successful oil business and established close friendships which would aid him both in business and in his public service career. After the Bushes moved their growing family to Houston, Bush's business career continued to flourish, but he yearned for public office and won a seat in the House of Representatives after a failed bid for the U.S. Senate (in which his father, Prescott Bush, Sr., had served). Bush served in other political and government jobs (head of the Republican National Committee, U.S. Ambassador to the United Nations, the first delegate to China, and Director of the CIA) before becoming Vice president under Ronald Reagan and, then President of the United States in 1988.
Reading an officially sanctioned biography may seem trite to some, but
George Bush: A Lone Star Yankee
is an important book to read during these troubling times, when the President and many of his current and former Cabinet members are scandal-ridden. For example, George Bush's commitment to improving race relations, private sector-led assistance for the needy, and a better education system were based on his notable efforts as a businessman, community leader, and public servant, not stolen from others and polished for the greatest appeal in response to public opinion polls. This telling of Bush's life story illustrates several important truths: that true public service is a valuable and rare thing; that character is important and does matter; that substance is more important than seduction; and that George Bush is a complex, thoughtful and dynamic world leader who should be remembered as one of this century's best presidents when judged on his accomplishments.
A Lone Star Yankee
reminds us that real leadership comes from solid credentials built on a record of success and action, not from a smooth tongue and a charming personality.
--Doug Jacobson
---
Making the Most of Your Money by Jane Bryant Quinn
Simon & Schuster, Nov., 1997.
Hardcover, 1066 pages.
ISBN: 0684811766.
Ordering information:
Amazon.com.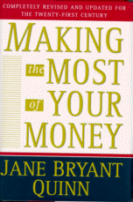 This financial resource by syndicated financial columnist Jane Bryant Quinn provides comprehensive answers to common money related questions and concerns. Topics addressed in the book include banking, insurance, home-owning, credit cards, wills and trust, debt reduction, college tuition, investing, retirement planning and more. The practical advice in the book is enhanced with checklists, tables and definitions provided by the author. Appendixes to the book include special tables that help the reader calculate financial needs and goals such as whether you should you buy or rent, how much you should save for retirement and how much life insurance you need.
According to Quinn, the rules for the end of the 90s and the next millennium are to save early and often, take on less debt, be a better investor and control the risk in the investments you choose. These concepts and others addressed in
Making the Most of Your Money
can be put to use by those at any financial level, from those at the beginning of their careers to those near retirement. A well-written, timely and informative financial tool that will be consulted many times by its readers.
---
Non-Fiction Reviews
Page Two

Return to Book Reviews Index