Nonfiction Book Reviews
The Internet Writing Journal
Page Three of Three
Diva: Unleash Your Feminine Power by Terri Walsh
Berkley, Feb., 1998.
Trade Paperback, 210 pages.
ISBN: 0425161587.
Ordering information:
Amazon.com.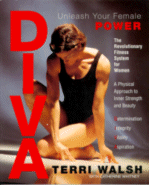 New York fitness trainer to the wealthy and famous Terri Walsh brings her innovative new fitness program to the public in her new book:
Diva: Unleash Your Female Power
. A survivor of both physical and sexual abuse she suffered when she was a child, Walsh drifted in her life until she found exercise and fitness as a way to rebuild both her inner and outer strength which allowed her to face the world with confidence. DIVA is an acronym for Determination, Integrity, Vitality and Aspiration, the four qualities Walsh believes are crucial to changing a woman's life. The program is an integrated one, teaching women a holistic method for total fitness, rather than just concentrating on one area of exercise such as aerobics. Weight training, toning, stretching, aerobics, anaerobics and diet are all elements of the easy to follow plan. Walsh obviously believes in her message that fitness can empower women -- she is living proof of it -- and the book is sprinkled with inspirational soundbites from satisfied clients.
DIVA
is a safe, inspirational program which is easy to learn and to schedule into a busy lifestyle. With DIVA tips, exercises targeted toward each module of the program and a DIVA journal to allow participants to record their goals and progress, DIVA is a great way to learn the secrets of a top personal trainer for under $14.00 -- and you don't even have to leave your home.
---
Plastic Surgery : What You Need to Know Before, During and After by Richard A. Marfuggi, M.D.
Perigee, Feb., 1998.
Trade Paperback, 226 pages.
ISBN: 039952374X.
Ordering information:
Amazon.com.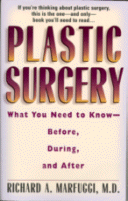 Thinking about having a little nip and tuck to hold back the ravages of time? Plastic surgery is more popular than ever due to the more sophisticated methods and lower prices available. But plastic surgery is still surgery -- with all of its attendant risks. Richard Marfuggi, M.D., is a board-certified plastic surgeon who has practiced in New York City since 1982. His new book is a primer for anyone interested in having plastic surgery of any kind. The book provides an overview of the surgical procedures which are available today and provides for each procedure a breakdown of the procedure itself, length of procedure, anesthesia, whether it is performed on an in or out-patient basis, healing time, pain, incisions/scarring, specific risks of the surgery, duration of results, what to expect, fees/insurance, and important questions to ask your doctor about that procedure. Photos are also provided showing before and after shots of each procedure.
Plastic Surgery: What you need to Know Before, During and After
is an excellent guidebook for anyone considering plastic surgery.
---
Non-Fiction Reviews
Page One | Page Two

Return to Book Reviews Index