Nonfiction Book Reviews
The Internet Writing Journal
Page Two of Three
Even the Stars Look Lonesome by Maya Angelou
Random House, Sep., 1997.
Hardcover, 145 pages.
ISBN: 0375500316.
Ordering information:
Amazon.com.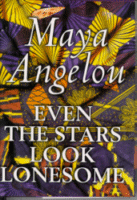 The continuation of
Wouldn't Take Nothing for my Journey Now
,
Even the Stars Look Lonesome
is an autobiographical collection of essays by poet, author and educator Maya Angelou. She shares what she has learned on the journey of life in these twenty short essays dealing with a range of diverse subjects including Africa, poverty, vacationing, aging and sexuality, the healing power of homes, art, mothers, and even her friend, Oprah Winfrey.
Angelou's voice is strong and compelling. As she weaves her web of words you are inexorably drawn into Angelou's worldview: that of the eternal voyager on the trip of Life. When she talks about her marriage which was made in heaven and then destroyed by two houses, you feel her pain, her strength and her determination to start her life anew -- on another coast. When she talks about the intrusion of violence into her life, you feel her rage and determination to get violence out of her life. And when she speaks with passion of the importance of African culture and art to today's African Americans, you hope people are listening. With a sprinkling of poetry throughout,
Even the Stars Look Lonesome
is a lyrical look into Angelou's world that allows readers to tag along on her voyage of ideas.
--Claire E. White
---
Phantom Islands of The Atlantic by Donald S. Johnson
Avon Books, Feb., 1998.
Trade Paperback, 240 pages.
ISBN: 0380730782.
Ordering information:
Amazon.com.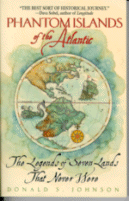 Ever wonder why explorers used to tell tales of monsters and natives that seem far-fetched? Or why ancient explorers had myths of Islands that don't exist to today? Donald S. Johnson's wonderful little gem,
Phantom Islands
, answers these questions and more with tales, insightful anecdotes and well-researched facts. The seven islands Johnson writes about in this book do not exist in our world Atlas today, but were all cartographed and remarked about centuries ago. An explorer himself, Johnson has made many voyages, including five journeys across the Atlantic in a twenty-seven foot schooner. A quote from Johnson may partly explain the difficulties of mapping Islands to explorers years ago, "I don't think anyone can truly comprehend just how vast the North Atlantic Ocean is without spending six or seven weeks sailing it in a small boat."
Johnson details each island and provides maps, stories and rumors to go with each one. He also offers ideas and suggestions as to what may be the explanation for why the island was thought to have existed and for its disappearance. A well-written and well researched work,
Phantom Islands
is sure to interest those keen on long forgotten mysteries, geography or history.
--Greg Knollenberg
---
Non-Fiction Reviews
Page One | Page Three

Return to Book Reviews Index