Nonfiction Book Reviews
The Internet Writing Journal
J.R.R. Tolkien: Author of the Century by Thomas Shippey
Houghton Mifflin, December, 2001
Hardcover, 347 pages
ISBN: 061812764X
Ordering information:
Amazon.com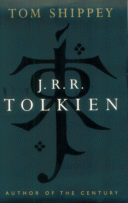 Recent polls in both England and the United States have consistently placed
The Lord of the Rings
by J.R.R. Tolkien at the top of the lists for the greatest books of the 20th century. And with the release of the multiple Oscar nominated film based on the books, interest has never been higher. Yet Tolkien has never received the literary accolades from the critics that he so richly deserved. Enter Dr. Thomas Shippey, the world's foremost Tolkien scholar, and an expert on Old English. A philologist who has taught the same syllabus as Tolkien himself did at Oxford, Professor Shippey convincingly makes the case that Tolkien deserves the same literary respect as his contemporary writers, such as James Joyce.
Dr. Shippey also provides fascinating insight into Tolkien's life and works, especially when explaining that to Tolkien, the source for the entire story was linguistic. Tolkien loved language, and didn't believe that it could be separate from the stories that it tells. Professor Shippey also deftly addresses the interesting issue of religion in
The Lord of the Rings
-- although Tolkien was a devout Catholic there isn't even a hint of religion in the work.
Tolkien: Author of the Century
is a brilliant piece of literary criticism, written in a witty and entertaining style which sets it apart from the work of many other scholars. Highly recommended.
--Claire E. White
---
Yoga: The Poetry of the Body by Rodney Yee, Nina Zolotow
St. Martin's Press, January, 2002
Trade Paperback, 368 pages
ISBN: 0743202589
Ordering information:
Amazon.com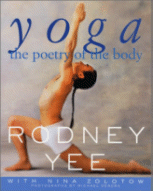 Yoga is more popular today than it ever has been. And one of its most popular instructors is Rodney Yee, most recently seen on
Oprah
teaching her millions of viewers how to start practicing the ancient art. Yee, a former gymnast and ballet dancer, began yoga classes twenty years ago because he felt his lack of flexibility was holding him back. He achieved such great physical and mental results that he eventually quit the ballet to devote his time to the yoga studio that he now owns with his wife, Donna. Yee has incredible appeal as an instructor -- he has a calming personality, with a subtle sense of humor and a sense of real caring. That doesn't mean he's not demanding though; he expects you to live up to your potential.
In Yoga: Poetry of the Body
, Yee teams up with a student and former technical writer, Nina Zolotow to present a thorough introduction to the practice of yoga. The book contains more than 400 black-and-white photos which illustrate 45 basic yoga poses. It also takes students step by step through eight full yoga practices. Interspersed throughout are transcripts of Rodney's and Nina's discussions about yoga and how it can affect one's life. Rodney explains his particular approach to the discipline, which is quite poetic (hence the title of the book). He truly believes in a total mind-body experience, and his insights are quite enlightening (although we could have done with a bit less information about Ms. Zolotow's negative life experiences). This is a must-buy for anyone interested in the practice of yoga.
---