Nonfiction Book Reviews
The Internet Writing Journal
Page Three of Three
The New Making of a Cook by Madeleine Kamman
William Morrow & Company, Nov., 1997.
Hardcover, 1228 pages.
ISBN: 0688152546.
Ordering information:
Amazon.com.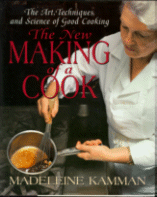 Twenty-five years ago, world-famous chef and author Madeleine Kamman wrote her groundbreaking cookbook,
The Making of A Cook
, in which she advocated the revolutionary concept (at the time) of marrying the freshest American produce and ingredients with classic French cooking techniques. Madeleine Kamman has completely revised her classic work in this new edition to reflect the changes in the food world in the last twenty-five years such as the prevalence of heart-healthy eating and the introduction of more ethnic flavors. With updated recipes and discussions of modern day health concerns,
The Making of A Cook
is a massive and excellent resource which contains over 650 recipes and 200 instructional line drawings to illustrate the techniques taught. A new chapter on wine covers the production of wine, the types of wine and how to cook with and serve wine with food.
For all the scientific descriptions of ingredients and detailed technical illustrations, Kamman never loses sight of her goal: to teach the reader the technical skills necessary to cook delicious food. The recipes are carefully chosen to provide a wide range of styles of cooking. Novices through professional chefs will find
The Making of A New Cook
to be an indispensable tool which will be consulted time and time again.
---
Eat This Too! by Dom DeLuise
Pocket Books, Dec., 1997.
Hardcover, 250 pages.
ISBN: 067100431X
Ordering information:
Amazon.com.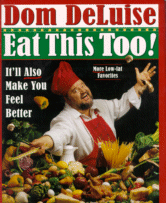 Popular comedian, author and chef Dom DeLuise is back with a follow up cookbook to his smash hit
Eat This, It Will Make You Feel Better
.
Eat This Too
is a collection of low-fat recipes modified from De Luise's childhood favorites and favorites from his many celebrity friends. Filled with photos of De Luise, his family and famous friends,
Eat This Too
reads as a fun-filled memoir worth reading, even if it wasn't filled with delicious, low-fat recipes. Many of the recipes are Italian in origin (in fact the book is dedicated to De Luise's immigrant mother, Vincenza) but the book covers everything from traditional Jewish favorites such as Matzo Brei to Sugar Free Apple pie. Written in an entertaining and breezy style with easy to follow instructions and lots of photographs,
Eat This Too
is a welcome addition to your recipe book collection.
---
Non-Fiction Reviews
Page One
|
Page Two
Return to Book Reviews Index