Nonfiction Book Reviews
The Internet Writing Journal
Page One of Three
Greta Garbo: A Life Apart by Karen Swenson
Scribner, Sept., 1997.
Hardcover, 616 pages.
ISBN: 0684807254.
Ordering information:
Amazon.com.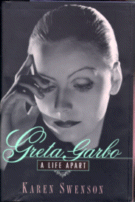 After the publication of the comprehensive and detailed biography of Garbo's life written by author Barry Paris, most biographers would have given up on the seemingly impossible task of finding new facts and insights into the legendary film star's life: not Karen Swenson. Entertainment writer Swenson shouldered this gargantuan task with her characteristic thoroughness and enthusiasm and emerged with the definitive work on the elusive Garbo's life. Meticulously researched and documented,
Greta Garbo: A Life Apart
adds new facets to the screen star's life, especially her poverty-stricken early life in Sweden which provides insights into her famously reserved demeanor. Swenson takes us on a behind the scenes tour of the troubled and poignant life of a woman whose motivations were often impossible to discern.
By uncovering previously unrevealed correspondence and by fact-checking the wildly varying accounts of the actress related by friends and lovers such as Mercedes Acosta, Gilbert Roland, Cecil Beaton and John Gilbert, Swenson manages to present a cohesive picture of a woman whose very contradictions -- shy yet possessing a brilliant ability to perform and entertain, loyal yet ruthless towards those who she felt had betrayed her -- may be at the core of her inimitable and magnetic appeal. The sensational elements of Garbo's love life, such as her attraction to women, her comeback attempt and her transformation from Hollywood Goddess to recluse are handled with sensitivity and insight. The overall tone of the work is objective, neither sycophantic nor tell-all, told from a female point of view. Swenson is as excellent a storyteller as she is a biographer. An intriguing tale; a must-have for Garbo fans.
---
Rainbow -- A Star Studded Tribute to Judy Garland by Ethlie Ann Varey
Boulevard, Jan., 1998.
Trade Paperback, 221 pages.
ISBN: 157297334X.
Ordering information:
Amazon.com.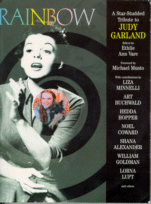 Editor Ethlie Ann Vare, best known as the music gossip on E! Entertainment Television's "The Gossip Show", has compiled a fascinating collection of journalism spanning the life of the legendary Judy Garland. Included are pieces ranging from the original production notes from The Wizard of Oz and the MGM press releases to interviews with Garland's friends and family.
Over the Rainbow
provides an interesting and sometimes poignant peek behind the scenes at the turbulent and often tragic life of Judy Garland. Through interviews with the likes of Lorna Luft, Liza Minelli, and Noel Coward and numerous articles, including one by Judy Garland herself, Judy Garland's life unfolds. The diet battles, the failed romances, her struggle to survive in the legendary MGM studio system and her legendary comeback are all detailed through the eyes of her friends and family. A fascinating look at one of the twentieth century's greatest legends.
---
Non-Fiction Reviews
Page Two | Page Three

Return to Book Reviews Index