Nonfiction Book Reviews
The Internet Writing Journal
Page One of Two
The Party: A Guide to Adventurous Entertaining by Sally Quinn
Simon and Schuster, Nov., 1997.
Hardcover, 218 pages.
ISBN: 0684811448
Ordering information:
Amazon.com.
Political and style reporter for the Washington Post and prominent Georgetown hostess Sally Quinn tells all in this intimate, ultimate look at the Washington party scene. Quinn dishes the dirt on some of the most talked-about parties held in our nation's capital. From the triumphs to the total disasters, the parties described make for vastly entertaining reading. Quinn even shares some of her own party disasters - such as the time guests fainted from the heat in her un-airconditioned Georgetown bachelorette apartment or the time that she overheard two 5-year-old guests at her son's birthday party pronounce the affair, "boring, boring, boring" to the horror of their hostess. Then there was the time that she was seated next to the Israeli ambassador at a dinner party held in a glassed-in solarium in the middle of a snowstorm. Because of a tiny leak in the glass ceiling, the unfortunate ambassador was the only guest who spent the evening being snowed upon. Being a diplomat, of course he was too polite to say anything.
The Party
is filled with practical advice for those who wish to embark upon their own entertaining career. Quinn covers all the important details of a good party, for both formal and informal affairs: how to pick the guestlist, the invitations, the setting, the table decorations (make them low enough for diners to talk over), flowers, booze, food, entertainment (never children or pets!) and much more. Accompanied by charming illustrations, told in Quinn's trademark self-deprecating, entertaining style,
The Party
is just that - a fun party you won't want to end.
---
Le Cordon Bleu Complete Cooking Techniques Jeni Wright & Eric Treuille
William Morrow & Company, Nov., 1997.
Hardcover, 352 pages.
ISBN: 0688152066.
Ordering information:
Amazon.com.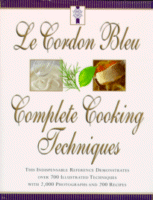 Founded in 1895, Le Cordon Bleu of Paris is the world's most famous culinary academy.For the first time, beginning and intermediate cooks now have access to this multitude of techniques and tricks of the trade from this renowned culinary institute. Writer Jeni Wright and Chef Eric Treuille worked with the top chefs from Le Cordon Bleu to create an authoritative and comprehensive cooking guide. From the selection of the correct ingredients to the preparation of the classic dishes from France, Italy, Asia and the best of simple homecooked meals, this guide has it all. Novice cooks and culinary professionals alike will find this an outstanding resource. Cooks will find everything from how to prepare their own pasta and breads, how to select and prepare chicken, fish and beef to creating perfect French pastries. A useful glossary, measurement charts and spice guide is also included. With easy to follow instructions for over 700 cooking techniques and over 2,000 color photos, this compendium is an indispensable reference for the kitchen.
---
Click Here for Non-Fiction Book Reviews Page Two
Return to Book Reviews Index