Mystery/Thriller Reviews
The Internet Writing Journal
Page Two of Three
Forged in Blood by Joyce Christmas
Fawcett Books, August, 2002
Paperback, 224 pages
ISBN: 0449007146
Ordering information:
Amazon.com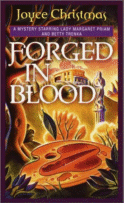 Retired office manager and sometime amateur sleuth Betty Trenka is excited about her upcoming European vacation with her new friend, the elegant Lady Margaret Priam. Betty and Margaret travel to Priam's Priory to attend the wedding of Margaret's brother, the Earl of Brayfield. They then head on to Italy to visit a friend's fabulous Italian villa, which is rumored to house an heretofore unknown Old Master. The wedding goes off without a hitch, but when they arrive in Rome, Betty and Margaret find themselves involved with an artist and an art dealer who may be about to pull off a major art forgery. Betty and Margaret do manage to see the legendary painting, but the scenery is marred by a dead body lying in the villa's beautiful and ancient fountain.
Betty Trenka and Lady Margaret have both been stars of their own popular mystery series, until the two sleuths met up (in
A Better Class of Murder
) to solve a high society murder set in Manhattan, with very entertaining results. Now, the charming aristocrat and the no-nonsense New Englander join forces to stop an art forger and a murderer. Readers are taken on a fascinating tour of London and Rome, as the two sleuths see the sights and socialize with everyone from criminals to screen stars. Ms. Christmas is known for her wit, her style and her excellent characterizations. Lady Margaret Priam's cool elegance and polished social skills play perfectly off Betty's down to earth, Yankee sensibility and dry sense of humor. This is a truly delightful mystery series. Highly recommended.
---
Louisiana Bigshot by Julie Smith
Forge, September, 2002
Hardcover, 304 pages
ISBN: 0765300591
Ordering information:
Amazon.com
Talba Willis is a young, African American computer genius and private investigator by day, but at night she becomes the poet and performance artist called the Baroness de Pontalba. Talba's latest case involves investigating the supposed suicide of her friend, Babalu Moya. Babalu was very reticent about her past (Babalu wasn't even her real name), so Talba is forced to go to Babalu's hometown of Clayton, Louisiana to find out more about her life. Clayton turns out to be a tight-lipped, racist community which makes it clear that Talba is very unwelcome in the area. Time is quickly running out for Talba on this investigation; either she gets some answers fast, or she may share poor Babalu's fate.
This is the second entry in the Talba Willis PI series, after
Louisiana Hotshot
. The irrepressible and talented Talba is a perfect foil for her older, white boss, Eddie Valentino, and their interactions are always hilarious. Miz Clara, Talba's eccentric mother can be counted on to provide endless irritation for Talba, and her sensitive and handsome teacher can be counted on to provide lots of emotional support. Talba is a unique and interesting character, and the plot is fast-paced. Julie Smith has a gift for bringing New Orleans to life, and this is one PI series that is extraordinarily entertaining.
---
Mystery Book Reviews
Page One
|
Page Two
|
Page Three
Click Here to Return to the Book Reviews Index