Mystery/Thriller Book Reviews
The Internet Writing Journal
Page One of Five
King Con by Stephen J. Cannell
Avon, May, 1998.
Paperback, 407 pages.
ISBN: 0380728176.
Ordering information:
Amazon.com.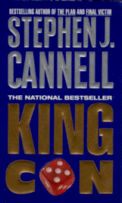 Beano X. Bates has reached the pinnacle of his profession, having earned the title of
King Con
which is given only to the very best con artist of a generation. With his great looks and killer charm no one can resist Beano Bates when he's pitching a mark. But Beano's whole life changes when he makes the mistake of cheating notorious mobster Joe "Dancer" Rina at cards and earns a vicious beating for his trouble. When his beloved cousin Carol is brutally murdered by Joe Rina's brutish brother Tommy before she can testify against the mobster, Bates vows to do whatever it takes to bring Rina down -- including joining forces with Federal prosecutor Victoria Hart, whose career is in a shambles after Carol's murder occurred while she under Hart's protection. The unlikely pair set off on a cross-country venture which will take them from the casinos of Atlantic City to the sundrenched Bahamas and the northern coast of California as they set up a long con which will play upon the Rina brothers' greed to take them down in a Big Sting which will result in Tommy testifying against his own brother about the pair's illegal activities.
Fans of nonstop action and pure entertainment got a real treat when Stephen J. Cannell decided to take time out from his prolific television career (
The Rockford Files
,
The A-Team
,
The Commish
,
Silk Stalkings
etc.) to write novels. In his third book, Cannell takes on the world of the Big Con in a modern day version of
The Sting
. Cannell's energy and enthusiasm for his characters and his story is contagious. With a charming hero with a heart, a brilliant, gutsy heroine who finds out there is more to life than prosecuting criminals and a breathless pace,
King Con
is an exciting, hilarious journey into the high-stakes world of the confidence game that you won't want to end.
---
---
Dust by Charles Pellegrino
Avon, Mar., 1998.
Hardcover, 359 pages.
ISBN: 0380973081.
Ordering information:
Amazon.com.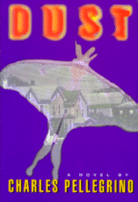 Imagine all the insects are gone. Sound peaceful? No cockroaches. No mosquito bites. No ants at your picnic lunch.
Dust
, a novel by scientist and underwater archeaologist Dr. Charles Pellegrino, shows us what life would be like in an insect-free world that arises out of an anomaly of nature -- and it is hardly a blissful or peaceful world. Swarms of millions of mites, called motes, have emerged on the Atlantic coast and are devouring every living thing in their path, including humans, down to the bone, and this is just the start of the problem. Because the insects have disappeared, the shock to the Earth's food chain is immense; animals are starving and diseases are spreading. The effect on the human race is catastrophic and Pellegrino graphically illustrates the effects upon life on the planet Earth as a whole as well as through the lives of individuals. The main characters in the book are realistic: paleobiologist Richard Sinclair who struggles to find a solution to the apocalypse and Jerry Sigmond who becomes a Hitleresque leader of a revolutionary group that attempts to take control during the turmoil.
Dust
is an action-packed adventure full of chaos, scientific thought and discovery with death and destruction on an Armageddon-like scale. An exciting scientific thriller that places Pelligrino on the same plateau in this genre as Michael Crichton and Richard Preston.
---
Mystery Reviews
Page Two | Page Three | Page Four | Page Five

Return to Book Reviews Index