Mystery/Thriller Book Reviews
The Internet Writing Journal
Page Three of Four
Charm City by Laura Lippman
Avon, Oct., 1997.
Paperback, 291 pages.
ISBN: 0380788764.
Ordering information:
Amazon.com.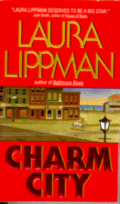 Former newspaper reporter turned private investigator Tess Monoghan meets her friend Feeney for a drink. She finds him bombed - his editors pulled his latest investigative news story just before its scheduled publication. Feeney's latest triumph would have been an investigation into the scandalous background local businessman "Wink" Wynkowski, who is trying to bring professional basketball to Baltimore. When the story runs, the Beacon-Light hires Tess to discover who hacked into its computer system to print the story. In the meantime, Tess is asked to babysit a greyhound racing dog by her Uncle Spike, who evades explaining to her the dog's sudden appearance. After Spike is beaten into a coma, hooligans approach Tess to get back their missing property. When the negative publicity from Wink's abusive past seems to derail his plans for the basketball team, he apparently commits suicide, and the pressure on Tess to solve these mysteries increases. As Tess begins to dig, she discovers a darker side to both stories, and she may be the next battered corpse.
Laura Lippman's latest novel,
Charm City
, is engrossing for mystery addicts seeking a quick fix. Her terse commentary on current events is woven into a plot with enough twists, surprises and false leads to satisfy any fan of the genre. Baltimore is used as a lurid, almost lascivious background for the story, and the author's description of the city and characters delights the reader by providing an unexpected travelogue. Curl up with this book on a snowy weekend.
--Doug Jacobson
---
Death of an Irish Sea Wolf by Bartholomew Gill
Avon, Oct., 1997.
Paperback, 293 pages.
ISBN: 0380725789.
Ordering information:
Amazon.com.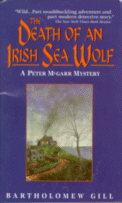 Peace has reigned on Clare Island, a remote community off the west coast of Ireland, for many years. Although the community is not wealthy, the inhabitants seem to do quite well. Whenever anyone is in dire straits - due to accident, illness or financial hardship -- the mysterious Clare Island Trust quietly cuts a check for the best medical care, an interest free loan or whatever is necessary. Though never openly discussed, all the Island knows that reclusive, kindly Clement Ford is the real owner of the Clare Island Trust although no one knows where Ford would have gotten the money to fund the philanthropic venture. One night, a mysterious figure from Ford's shadowy past appears on the Island. By morning, three people have been brutally murdered - including Ford's beautiful, blind wife - and Ford has disappeared. Chief Superintendent Peter McGarr, head of Ireland's Special Crimes Unit, and his crack staff from the Murder Squad arrive on the Island to determine what happened that night. They meet an Island full of hostile people loyal to the generous Ford and a seemingly impenetrable mystery shrouding Ford's past, involving violence, treachery and a missing Nazi treasure from World War II. This is the 12th novel in this series starring Superintendent McGarr and his staff.
Death of a Irish Sea Wolf
is a fascinating, action-packed mystery that combines the excitement of an espionage thriller, lyrical descriptions of a wind-swept island in the North Sea and an intriguing slice of historical drama. The result is an extraordinary tale that transcends the ordinary police procedural which sometimes have a tendency to become a bit tedious as they bog down in the endless minutiae of routine investigation. There's no danger of that here, however. A rollicking good read.
---
Mystery Reviews
Page One | Page Two | Page Four

Return to Book Reviews Index