Romance Book Reviews
The Internet Writing Journal
,
May 2005
Page Two of Two
Tiger Eye by Marjorie M. Liu
LoveSpell, March, 2005
Paperback, 342 pages
ISBN: 0505526263
Subgenre: Paranormal
Ordering information:
Amazon.com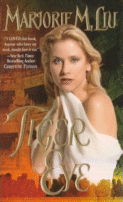 Sculptress, sword maker, psychic and world traveler Delilah Reese spends an enjoyable day at Beijing's Dirt Market hunting for treasures and an ancient sword to add to her collection. After a lengthy haggling session with an old woman to buy some fabric, the old woman insists on selling Dela a beautiful ancient riddle box for one Yuan. As soon as she takes the box, Dela is accosted by a handsome yet creepy man and she barely makes it back to her hotel. But more surprises are in store for Dela. When she opens the riddle box, a handsome warrior appears: and he's really angry from being imprisoned by an evil Magi for 2,000 years and forced to serve whoever owns the box. The warrior, named Hari, is surprised when Dela refuses to own a slave. But before they can get acquainted, the Magi appears again and Dela is attacked. With the help of her family, which is in the troubleshooting business, Dela and Hari make it home to the U.S. where they find themselves in the crossfire between the Chinese Mafia who want revenge for a death caused by one of Dela's swords.
Marjorie M. Liu has caused quite a stir with the publication of her stunning debut,
Tiger Eye
. Hari, the shape shifter who has been imprisoned for 2,000 years, is simply irresistible, as are the attractive members of Dela's family troubleshooting business: think handsome Navy SEAL team with paranormal abilities. Delilah herself is a fascinating character: she's one of the most likeable heroines to come along in a while. She's intelligent, courageous, funny, and she packs quite a bit of psi power when she wants to. This heady mix of mystery, magic, action and passion make for this summer's absolute must read romance. Marjorie M. Liu is an author to watch, she is clearly destined for great things.
--Claire E. White
---
Night Bites by Nina Bangs
LoveSpell, March, 2005
Paperback, 339 pages
ISBN: 050552614X
Ordering information:
Subgenre: Paranormal
Amazon.com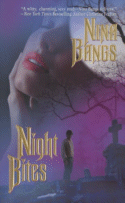 In
Master of Ecstasy
, readers met supernatural time travelers Ganymede and Sparkle Stardust who are now up to their old tricks again. Sparkle, who loves to meddle in humans' affairs of the heart and Ganymede, who is trapped in the body of a cat for this adventure, decide to visit the Woo Woo Inn in New Jersey. The Inn is owned by Cindy Harper, who adores ice cream and entertaining her supernatural and human guests. She has her work cut out for her, ensuring that her human guests who are only playing at being supernatural don't get left alone with any hungry vampires or werewolves. Cindy is 1500 years old, although she doesn't look a day over 25. And she's sworn off men for the time being. So when handsome vampire Thrain Davis shows up to tell Cindy about her long-lost family and explain her mysterious longevity, naturally Sparkle has to interfere. A lot. Oh, and there's another problem. Cindy really doesn't like vampires.
Whenever Nina Bangs puts pen to paper -- or hands to keyboard, as the case may be -- readers are in for a treat. There really aren't any other romance books like the ones that Nina Bangs writes. If you can set aside your rational, logical, "to do list" mindset and enjoy the fantasy, Nina Bangs will take you to a world that is absolutely delightful. It's impossible to be depressed while reading one of her books. Be prepared for a wild, sexy and laugh out loud funny story.
---
Romance Book Reviews
Page One
|
Page Two
---
Return to Book Reviews Index