Romance Book Reviews
The Internet Writing Journal
,
May 2002
The Grotto by Evelyn Rogers
Love Spell, May, 2002
Paperback, 384 pages
ISBN: 0505524791
Subgenre: Gothic
Ordering information:
Amazon.com
|
Amazon.co.uk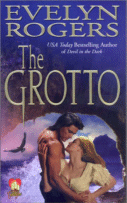 Gothic Romance is back -- and better than ever with this new entry from bestselling author Evelyn Rogers. In Tuscany, the beautiful American widow of the cruel Conte Pietro Donati returns to the family estate to salvage what she can of the fortune that was squandered by her late husband. The Conte had deserted the Villa Falcone years ago, leaving the townspeople who depended on the Villa without a way to feed themselves. Naturally, they are quite hostile to the widowed Caterina. Nevertheless, Caterina is determined to make the Villa shine again, to resurrect the once-lush vineyards and olive trees which filled the area. But her attorney seems determined that she sell the property. And the villagers all think the Villa Falcone is cursed. When a dark, handsome stranger shows up to help with the restoration, Caterina is intrigued. But Roberto Vela seems to have his own agenda -- and it may not include Caterina's happiness at all.
Dorchester Publishing's new gothic romance imprint, Candleglow, is off to fantastic start with Evelyn Roger's
Devil in the Dark
, and
The Grotto
. All of the elements of a traditional gothic are here: the determined heroine, the brooding hero, the threatening and passionate atmosphere. But Ms. Rogers has taken these elements and given them a fresh, modern feel that shows that gothics do have a place in the new millennium. Roberto Vela, the hero, is mysterious, but just enough of his compassion and humor shine through to illustrate what kind of man he really is -- although his identity is kept a secret for most of the book. Gothic romance is worth rediscovering, and Evelyn Rogers is just the author to take you on your escape into dark fantasy.
---
Night Games by Nina Bangs
Lovespell, May, 2002
Paperback, 368 pages
ISBN: 0505524805
Subgenre: Time Travel
Ordering information:
Amazon.com
|
Amazon.co.uk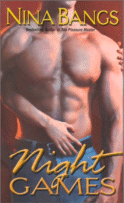 In the year 2502, most of the men have an unfortunate performance problem. Earth is a virtual paradise of riches, with no disease, poverty or need to work. Procreation is accomplished via scientific methods and everyone is incredibly bored, which has led to some odd sociological changes: sex is now a spectator sport, with teams and MVPs -- much like the present-day NFL. Superstar Brian Byrne is at the top of his game: he's rich and enormously popular throughout the known worlds. He grew up on a poor outer rim world, and was rescued by an agent who knew his good looks would serve him well in the rough and tumble world of professional sex sports. Brian made it to the top (he's the MVP of the Sex Super Bowl), but he's been feeling a bit burned out lately, so he pops back to old Earth via time travel (a popular vacation method) to his ancestral home in Ireland. The last thing he wants to see is another woman -- but he immediately runs into Ally O'Neill. The bestselling author of books about how to be the perfect, subservient wife has big problems -- her husband left her and her editor now wants a book from a single woman's perspective. And it better be juicy. So when Brian shows up, he seems like the perfect one night stand, all in the name of research. But somehow, as she gets to know him, he seems more like a keeper. The trick is how to convince him that life in the past with one woman is better than a life in the future with thousands of women, but without love or commitment.
No one writes paranormal romance quite like Nina Bangs. She takes a wild premise, throws in likeable, passionate, and great supporting characters and then lets the fun begin. Her stories are fast-paced, funny and, of course, sexy. This is a great summer read that is sure to put a smile on your face.
---
The Pursuit by Johanna Lindsey
William Morrow, March, 2002
Hardcover, 320 pages
ISBN: 0380978555
Subgenre: Historical
Ordering information:
Amazon.com
|
Amazon.co.uk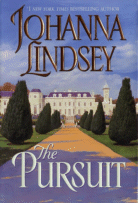 Sent away to London to live with relatives when he was very young, Lincoln Ross Burnett, 7th Viscount of Cambury, has now returned to his native Scotland. His bitterness towards his mother for sending him away after his father died has only grown over the years. When Lincoln meets Melissa MacGregor, the young couple knows that they are meant to be together forever. But Melissa has sixteen incredibly overprotective uncles who have so far managed to scare off every potential suitor. Remembering Lincoln from his fractious childhood, the uncles decide he is not worthy of their niece and packs him off (literally) on a slow boat to China. But Melissa is not one to be dictated to by mere uncles and determines to marry the man of her dreams, regardless of the obstacles.
The Pursuit
is a romantic, exuberant and touchingly funny novel, which should especially delight longtime Lindsey fans. Melissa is the daughter of Kimberly Richards and Lachlan MacGregor from
Love Me Forever
; other familiar characters also make an appearance which adds to the fun of the story. Lincoln's difficult relationship with his mother adds a serious aspect to the story which, combined with the entertaining dialogue and true affection between the lead characters, makes for a thoroughly enjoyable read.
---
Return to Book Reviews Index