Mystery/Thriller Reviews
The Internet Writing Journal
,
May 2002
Agatha Raisin and the Love From Hell by M. C. Beaton
St. Martin's Minotaur, December 2001
Hardcover, 301 pages
ISBN: 0312207662
Ordering information:
Amazon.com
|
Amazon.co.uk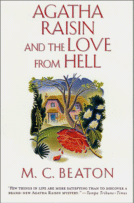 Agatha Raisin, that high-powered executive who has retired to the joys of village life in the Cotswolds, has finally realized her life's dream: she is married to longtime obsession, James Lacey. But wedded bliss is not to be. James appears to be having an affair with his ex-girlfriend, Melissa. After a public confrontation (which the entire town knows about), James disappears, leaving only a bloodstain behind to indicate that he was the victim of foul play. Agatha is the prime suspect, and she and her fickle ex-lover Sir Charles Fraith set out to find James and clear Agatha's name. Of course, complications ensue, especially when the despised Melissa turns up murdered.
Agatha Raisin's latest adventure is the best yet. The horrid James gets his comeuppance in this delightful installment of the popular cozy series. The plot has a slightly madcap feel to it, and the improbable happenings add just the right touch of oddness which makes this series so addicting. Agatha is an acquired taste: she's pushy, has zero empathy for the feelings of others and tramples on social conventions with ease in her inappropriate-for-the-country high heels. But she also has a big heart and her neurotic insecurities make for hilarious reading. We learn quite a bit more about Sir Charles' background, which has the effect of making him more likeable. Altogether, a delightful romp.
---
Amazonia by James Rollins
William Morrow, March, 2002
Hardcover, 224 pages
ISBN: 0060002484
Ordering information:
Amazon.com
|
Amazon.co.uk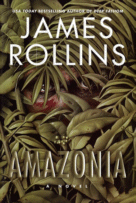 When a CIA operative who was believed dead stumbles out of the Amazonian jungle, his superiors are shocked. But it is not the agent's reappearance that is so unlikely, as it is the fact that his missing arm has been mysteriously regenerated. The operative died of massive cancerous tumors, and it appears that anyone who got near the body is infected with some sort of strange virus. Now the government has organized an expedition into the jungle to find out what happened to the original lost expedition, and to find a cure for the virus that is threatening to become a worldwide epidemic. The group includes Dr. Nathan Rand, whose father was lost on the original expedition, members of the U.S. Army Rangers, as well as some other scientists. The group will encounter everything from giant crocodiles to mutated piranhas to untold secrets about the human genome during their extraordinarily dangerous quest, where things and people are not always what they seem to be.
When you're in the mood for a rollicking good adventure story, pick up the latest James Rollins novel. Rollins loves to start with a likeable protagonist, throw him into a difficult situation and let the fun begin. He is adept at pacing, filling the story with non-stop action, mystery and loads of suspense. He perfectly captures the dark and frightening atmosphere of the remote rain forest, where death comes in many forms: from insects, snakes, and other, more mysterious causes, as well. This is the perfect summer read.
---
The Pillow Book of Lady Wisteria by Laura Joh Rowland
St. Martin's Minotaur, April, 2002
Hardcover, 292 pages
ISBN: 0312282621
Ordering information:
Amazon.com
|
Amazon.co.uk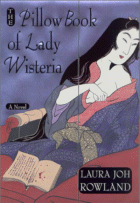 After his last case (
See, Black Lotus
), Sano Ichiro, the shogun's Most Honourable Investigator of Events, Situations and People is exhausted, as is his beloved wife, Reiko. The last case caused a rift in their marriage, and the poor judgment Reiko exhibited has left her feeling insecure about her abilities. When the Shogun's heir is found murdered in Yoshiwara, the pleasure quarter of 17th century Edo (Tokyo), Sano is ordered to find the killer without delay. The courtesan who was with Lord Mitsuyoshi before his death was the infamous and beautiful Lady Wisteria, who was known for keeping a private diary, or pillow book. Both Wisteria and the pillow book are now missing. And Sano's numerous enemies at court are determined to solve the case before he does or, better yet, pin the crime on Sano himself. And Sano himself is worried that Reiko will discover his own past association with Wisteria, which could destroy their faltering marriage.
Sano and Reiko face problems both public and private in this well-crafted mystery. The machinations of the courtiers in the Tokugawa court are positively Machiavellian. Careers and lives can be ended on a whim of the weak-willed Shogun, who is surrounded by hangers-on who constantly maneuver to gain favor in the ruler's eye. Sano himself is an honorable man, and he detests the games he must play in order to keep his family safe -- and solvent. The plot is labyrinthine, just like the politics of the time, and Ms. Rowland effortlessly transports the reader back to the 17th century Japan for a very enjoyable time travel experience. Highly recommended.
---
Click Here to Return to the Book Reviews Index