Reviews of Writing Books
The Internet Writing Journal
,
May 2001
Page Two of Two
Get Organized, Get Published by Don Aslett and Carol Cartaino
Writer's Digest Books, June 2001.
Hardcover, 285 pages.
ISBN: 1582970033
Ordering information:
Amazon.com.
Have you ever spent hours looking for a misplaced story idea, an address or even a pen? If so, then some reorganization of your work space could help you free up some valuable time. Don Aslett and Carol Cartaino provide advice and tips to help you solve these and other related problems in order to get your home office and your writing organized and on the right track. Getting organized will save all the time you normally spend looking for things, which will free up valuable extra time to write. In addition to organization tips, the book also provides insight and suggestions to help writers learn time management skills and find ways to break writer's block. Charts, examples, outlines and quotes and comments from well-known authors are included to enhance the presentation of the authors' ideas.
Author Don Aslett has written over 28 books on organization and time management, and author Carol Cartaino has co-authored and edited many of them. Now the authors have tailored their time management strategies for the writing profession, with excellent results. Their strategies are practical, useful, and are sure to help writers find more time to write -- and to stop making excuses.
Get Organized, Get Publishing
helps writers organize their writing lives and work habits so they can clear away distractions and concentrate on what's really important: the writing itself.
---
Get Your First Book Published by Jason Shinder
Career Press, 2001.
Trade Paperback, 346 pages.
ISBN: 156414450X
Ordering information:
Amazon.com.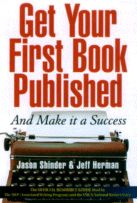 Get Your First Book Published
is a collection of advice, awards, resources, publisher listings and profiles of how well-known authors published their first books. This book does a superb job of listing and summarizing hundreds of available awards for both books and poetry chapbooks, including awards exclusively for first-time authors. Also included are market listings for publishers favorable to unpublished first-book manuscripts. Contact information for each contest and publisher listing are included. Other lists in the book include organizations for authors, publications and websites. Articles and tips about writing, plus anecdotes by writers about their experiences in publishing their first novels are also included.
Get Your First Book Published
is a well-planned and detailed collection of information and resources for the writer seeking to publish his first book.
---
Writing Reviews
Page One
|
Page Two
Return to Book Reviews Index