Reviews of Writing Books
The Internet Writing Journal
,
May 2001
Page One of Two
Everyday Life in the 1800s by Marc McCutcheon
Writer's Digest Books, March 2001.
Trade Paperback, 308 pages.
ISBN: 1582970637
Ordering information:
Amazon.com.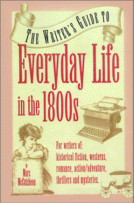 Everyday Life in the 1800s
is a historical reference guide from the Writer's Digest
Everyday Life
series. This reference covers the 1800s, providing facts, timelines, definitions and dates, as well as relevant information about the time period, how people lived, famous events and famous citizens. The slang section is especially useful for writers in search of dialogue appropriate to the period. This section includes slang vocabulary from the time period with word meanings and sample sentences showing usage. Other sections in the book cover transportation, home and living, clothing and fashion, money, occupations, health and medicine, food and drink, amusements, slavery, courtship and marriage and the Civil War. Handy timelines covering important events, published books and novels, innovations and popular songs are also provided. This is a very useful reference for historical, western and romance writers that can help reduce trips to the library and exhausting online search sessions.
---
Everything You Need to Know to Write Publish & Market Your Book by Patrika Vaughn
A Cappella Publishing, 1997.
Paperback, 189 pages.
ISBN: 0312252765
Ordering information:
Amazon.com.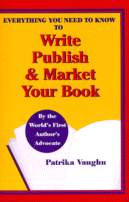 This informative guide provides the basics of publishing a book, as well as inspiration and tips to get your creative juices flowing. Author Patrika Vaughn has served as a literary agent, professional writer, ghostwriter and writing teacher. Some of the topics she covers include curing writing fears, developing characters, plot, beginning and endings, editing, submitting and self-publishing. The book includes some pithy advice for writers as well. For example, in the chapter about writing effective beginnings, Ms. Vaughn suggests that authors can wait until later to write their opening scene. "Feel free to write later scenes -- even your climax -- first. Then, once you've gotten inside your story and create the tone of the piece, go back and write your opening." In the same chapter Ms. Vaughn comments on several openings from popular novels, and provides a writing exercise on creating a great opening. Ms. Vaughn's book is just the thing for beginning writers who are feeling a bit discouraged and could use a jump start in their careers.
---
Writing Reviews
Page One |
Page Two
Return to Book Reviews Index