Mystery/Thriller Book Reviews
The Internet Writing Journal
,
May 2000
Before I Say Good-Bye by Mary Higgins Clark
Simon and Schuster, April 2000
Hardcover, 320 pages.
ISBN: 0684835983.
Ordering information:
Amazon.com.
|
Amazon.co.uk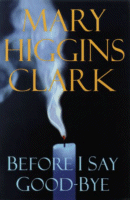 Nell McDermott has known her share of tragedy in her life. Her parents were killed when she was a child, and she was raised by her grandfather, longtime congressman Cornelia McDermott or "Mac". Nell has always had the gift of extrasensory perception, just like her great-aunt Gert, but her grandfather scoffed at the very idea of ESP and told Nell that she was just imagining things. Nell has always thought about following her beloved grandfather into politics, but her husband Adam, an architect, is vehemently opposed to the idea. When Adam's new cabin cruiser, The Cornelia II, is blown up in a terrible explosion which kills Adam and the business associates who were on the boat for a meeting, Nell is devastated. What's worse, the police think that the explosion was deliberately set -- and may have something to do with a possibly shady real estate project in which Adam was involved. Determined to clear her dead husband's name, Nell sets out to find the truth. Soon it becomes clear that Nell has stumbled into a deadly conspiracy, as a ruthless killer will stop at nothing to stop Nell from finding out the truth.
Mary Higgins Clark's 21st suspense novel takes readers into the world of New York real estate, where ruthless developers and speculators make their own rules without regard to the laws, and into the world of psychic communication. Nell McDermott, who has been skeptical of her own powers all of her life, is an appealing heroine who has experienced great tragedy in her life but who never quite gives up. The novel is full of suspense, action and subtle humor. Some of Nell's interactions with her grandfather Mac and with Aunt Gert are quite funny -- in fact, Mac just about steals every scene he is in. The plotting and pacing are expertly done, as always with Clark, but it is her wonderful way with characters and dialogue which make her books so compelling. Her latest novel is no exception. Highly recommended.
--Claire E. White
---
Angels and Demons by Dan Brown
Pocket Books, 430 pages.
Hardcover, May 2000.
ISBN: 0671027352.
Ordering information:
Amazon.com.
|
Amazon.co.uk
When renowned physicist Leonardo Vetra is found murdered and branded with an archaic symbol, Harvard symbologist Robert Langdon is summoned under conditions of great secrecy to CERN, the world's largest scientific research facility in Geneva, to give his expert opinion about the symbol. Together, Landgon and Maximillan Kohl, CERN's powerful director, make the horrifying discovery of the theft of enough antimatter to annihilate a small city. Langdon determines that an ancient, secret brotherhood called The Illuminati are responsible for the theft and plan to use the antimatter to destroy the Vatican on the eve on the Conclave, when a new Pope is chosen. The Illuminati have been deadly enemies of the Catholic Church since the 1600s when the church executed many of their scientist members for heresy (even Galileo was reputed to be a member of the clandestine organization which prized truth and science above what they saw as the repressing teachings of the church). Langdon and another CERN scientist, Vittoria Ventra the daughter of the slain physicist, must go to Rome to try to stop the horrifying disaster. But the Illuminati have agents everywhere and the pair will face overwhelming obstacles in their search for the missing canister, which holds the most deadly explosive invented by mankind.
Dan Brown, author of the bestselling techno-thriller
Digital Fortress
, serves up another top-notch, edge of your seat thriller with
Angels and Demons
. The brotherhood of the Illuminati really existed -- in fact, it is possible that the pyramid and eye on the United States one dollar bills was placed there because of the Illuminati-infiltrated Freemasons, many of whom were high-ranking U. S. officials at the time of the creation of the design for the bills. Brown expertly weaves real scientific facts, such as the creation of antimatter, with ancient texts about the Illuminati and their goals to create a compelling story line. The story also provides a fascinating look at the historical enmity between science and religion, and how that conflict continues today as physicists search for the answers to the questions of why we are here, and how our universe was created. Heart-pounding suspense and an intriguing premise make Dan Brown's second novel a winner; don't miss it.
--Claire E. White
---
Mystery Reviews
Page One |
Page Two
|
Page Three
|
Page Four
|
Page Five
Click Here to Return to the Book Reviews Index