Mystery/Thriller Book Reviews
The Internet Writing Journal
,
March 1998
Page Two of Three
Agatha Raisin and the Terrible Tourist by M. C. Beaton
St. Martin's Press, Oct., 1997.
Hardcover, 182 pages.
ISBN: 031216761X.
Ordering information:
Amazon.com.
|
Amazon.co.uk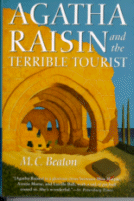 Agatha Raisin has had quite a time of it. Her impending marriage to James Lacey was stopped cold when her supposedly dead husband reappeared on the scene, only to be murdered again. Solving the murder got Agatha's hopes up that her romance was back on track when James disappears to Turkey, the location of their would be honeymoon. Undaunted, Agatha packs a bag and sets off in pursuit of her beloved, yet missing, fiancé. She finds him, but he seems distant .To distract herself from this potential heartbreak, Agatha hooks up with some truly terrible tourists as a way to pass the time. Of course, before long one of them is murdered and Agatha is in the middle of yet another murder investigation. Ordered not to leave town by the local constabulary, pursued by an amorous baronet and heartbroken over the coldness of her beloved James, Agatha must pull herself together in order to solve a murder, avoid being the next victim and emerge triumphant in the game of love.
M.C. Beaton has created another delightful adventure for the irrepressible Agatha Raisin. The scenery of north Cyprus provides a different twist on Agatha's normal sleuthing adventures as does the introduction of the amorous cheapskate Sir Charles Fraith. Agatha's obsession with the cold-hearted James continues and Beaton deftly weaves Agatha's melodramatic personal life into her sleuthing escapades. More fun for Raisin fans.
---
Canapés for the Kitties by Marian Babson
St. Martin's Press, Sept., 1997.
Hardcover, 221 pages.
ISBN: 0312169299.
Ordering information:
Amazon.com.
|
Amazon.co.uk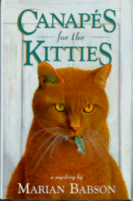 Popular mystery author Lucinda Lucas has a terrible secret. She loathes Miss Petunia, Lily and Lorinda, her fictional crime-solving spinsters so beloved to her editors and her public. Unable to help herself, she plots their demise in increasingly gruesome ways, then hides the endings in a folder in her office. But one day, Lucinda returns to her cozy cottage home in the writer's colony of Brimful Coffers to find that her literary creations want to live -- and are willing to sacrifice Lucinda in order to make that happen. Convinced she is either losing her mind or that one of the Brimful Coffers neighbors is playing a terrible joke on her Lucinda tentatively reports her problems to her novelist friends, only to find that they too are being threatened by their own characters. When real life begins to imitate art and members of the town begin to be killed off, Lucinda must find the killer and restore peace to both the fictional and real worlds.
Marian Babson has penned an amusing and intriguing tale with her latest creation. The mixture of fantasy and fact and the backstage glimpse into the trials and tribulations of the working mystery novelist are quite funny, and the antics of the authors' mystery characters add an unusual twist to the usual English village cozy. Unusual and entertaining.
--Claire E. White
---
When Last Seen Alive by Gar Anthony Haywood
Putnam, Jan., 1998.
Hardcover, 223 pages.
ISBN: 0399143033.
Ordering information:
Amazon.com.
|
Amazon.co.uk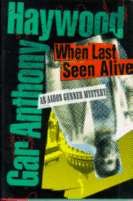 Private eye Aaron Gunner is back in this 5th installment of the gritty detective series set in South Central L. A. While already on a case to track down the infidelities of high-profile city councilman Gil Everson at the behest of Everson's irate wife Connie, Gunner gets approached by a new client, the lovely Yolanda McCreary. It seems that Yolanda's brother, Elroy Covington, met Gunner one night while at the Million Man March in Washington, D. C. and took one of his cards. Unfortunately, Covington never made it home from the March; one of the few things he left behind was one of Gunner's cards. Gunner doesn't remember meeting Covington, but decides to take the case.
As Gunner looks deeper into the disappearance of Covington, it soon becomes clear that several groups have an interest in his investigation, not all of them friendly. He's kidnapped by a radical group known as the Defenders of the Bloodline who look like the prime suspects in the Covington's disappearance. Then he's picked up by the FBI who wants him to act as bait so they can trap the Defenders of the Bloodline. Caught in the crossfire, his own life threatened, Gunner must make some tricky decisions in order to solve both cases and protect his life and that of his attractive client.
Haywood continues to shine in the PI genre. Aaron Gunner is a complex and intriguing man trying to make his way in the gritty underground world of South Central L. A. The characters who populate Gunner's world are vivid and strong and fit well into the landscape that Haywood has painted for them. With a clear eye for detail, an excellent ear for dialogue and a talent for slipping social commentary between the lines, Haywood is a talent to be reckoned with.
--Claire E. White
---
Mystery Reviews
Page One | Page Three

Return to Book Reviews Index