Mystery/Thriller Book Reviews
The Internet Writing Journal
,
March 1998
Page One of Three
Shadow Wars by Clyde Farnsworth
Donald I Fine, Feb., 1998.
Hardcover, 432 pages.
ISBN: 1556115180.
Ordering information:
Amazon.com.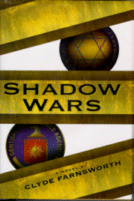 U.S. Intelligence has come upon some remarkable news about recent breakthroughs by chemists and physicists working at an Israeli facility. It appears that scientists working at the facility have discovered a way to engineer gold cheaply and that Israel is now manufacturing and selling this gold. If this is true, it could collapse the value of gold and cause an economic crisis. The U.S. wants answers and sends a renowned physicist, Hillsdale Landover, to determine if this situation is true, to get details and return with a report to the president. In Israel, Landover soon finds himself on more than just a fact finding missing and is nearly murdered his first day by a young knife-wielding boy. To get him out of harm's way Rafe Ravid, the Israeli contact, fakes his return back to the U.S. in order to sneak him into the gold making facility in Dimona. Here, Professor Landover meets Rachel, Ravid's daughter, who works in the facility and has made some discoveries of her own. Skeptical of the gold making process, Landover does not get on Rachel's good side. However, the Iraqis want the information too and Landover soon finds himself pursued by assailants who murder Rafe. Landover turns to Rachel for help and the two of them find themselves in a run for their lives from diabolic villains and their own governments.
Farnsworth's tale is full of fascinating details of the physical process of the alchemy of gold, chilling political facts which give insight into the inner-workings of the Iraqi, Israel, Russian and US Governments and secret services, historical and modern details of the Middle-East and heart-pounding suspense. A dramatic and effective entrance onto the political/thriller stage from former
New York Times
writer Clyde Farnsworth.
---
Flood Tide by Clive Cussler
Simon and Schuster, Sep., 1997.
Hardcover, 544 pages.
ISBN: 0684802988.
Ordering information:
Amazon.com.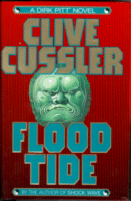 Clive Cussler strikes again as America's foremost action storyteller with
Flood Tide
. In Cussler's 11th undersea adventure, Dirk Pitt and his sidekick Al Giordino are up against the evil billionaire Qin Shang. As the fourth richest man in the world, Shang smuggles Chinese by the millions into the U.S., Canada and Europe. With the population of the U.S. exploding, it seems that the Chinese will soon control the West Coast. Could the U.S. be setting up for another civil war? Pitt picks up on the trail of the smuggling operation while vacationing on Orion Lake near Seattle. On the bottom of the lake, Pitt discovers thousands of dead Chinese murdered by Shang and his operatives. Meanwhile, Qin Shang has bought off all of the politicians, including the president. As Dirk continues to nose around, it turns out that the evil billionaire is constructing his biggest operation yet. He has constructed a billion dollar port above New Orleans that defies all economic logic. Aside from using the port as an entry point for smuggling operations, Shang has a plan that will divert the Mississippi back into her former bed. This nefarious plan would then give his new port a monopoly, and put everyone else under water -- literally!
Pitt and his gang from the National Underwater and Marine Agency (NUMA) unravel Qin Shang's plans bit by bit using remote submersibles and other fun high-tech gadgetry. The final showdown between Pitt and the evil billionaire takes him to the site of a shipwreck that was filled with treasures by Chiang Kai Shek and possibly containing the bones of the Peking Man. A speedy and fun adventure which Cussler fans will relish.
--James A. White, Jr.
---
Mystery Reviews
Page Two | Page Three

Return to Book Reviews Index