Romance Book Reviews
The Internet Writing Journal
,
March 2006
Goddess of Eire by Janeen O'Kerry
LoveSpell, February, 2006
Paperback, 337 pages
ISBN: 0505525879
Subgenre: Historical
Ordering information:
Amazon.com
|
Amazon.co.uk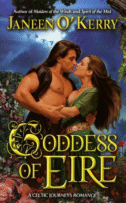 The great warrior Parlan has been elected by his peers to be the next High King of Eire. He must first pass a kingship test administered by the Goddess Eriu, who embodies the land of the Emerald Isle. Parlan passes the test, but then infuriates the Goddess by demanding that she be his Queen. His arrogance triggers a terrible curse: a dragon begins to ravage the land. In order to remove the curse, Parlan must go on a year-long quest to find four magical artifacts which were hidden in hard to find places by the ancient gods. He must find Sword of Nuadha, the Spear of Lugh, the Cauldron of the Daghda and the Stone of Destiny, then wield the objects in a battle against the dragon on the evening of Samhain. Parlan must defeat the dragon in battle, if he is to save his land and the Goddess who embodies it. The Goddess Eriu is weary of being alone and -- although she is angry with Parlan -- agrees to accompany him and his knights on his quest that will determine her own future.
Goddess of Eire
is a fantasy novel with strong romantic elements. This is the last book in O'Kerry's popular Celtic Journeys series, which explores all eight of the ancient Irish festivals. Parlan is an interesting hero: he wants to be king, but he also is willing to give it all up for the woman he loves. The Goddess Eriu and her motivations are a bit more mysterious: but it's clear that being a Goddess can be a lonely thing. Ms. O'Kerry excels at bringing the pagan and Celtic traditions to the modern reader, and this interesting tale will charm those with an interest in Celtic lore.
---
Shadow Touch by Marjorie M. Liu
LoveSpell, February, 2006
Paperback, 354 pages
ISBN 0505526301
Subgenre: Paranormal
Ordering information:
Amazon.com
|
Amazon.co.uk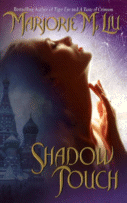 In the eagerly-awaited follow up to her amazing debut novel,
Tiger Eye
, Marjorie Liu proves that she has what it takes to make it to the top of the bestseller lists. Artur Loginov, an ex-Russian assassin, now works for the very unusual Dirk & Steele Detective Agency in the United States. Most of the employees of the agency have special paranormal talents, and Artur is no exception: he can "read" any object simply by touching it. Artur finds fulfillment in helping people in order to redeem himself for the crimes of his youth. But something is wrong with Artur's powers. His headaches are increasing in frequency and intensity, and his health is failing. While investigating a serial killer, Artur is kidnapped and taken to a mysterious medical facility in which a number of people with special abilities are imprisoned and being experimented on. Also in the facility is Elena Baxter, a young woman who has the power to heal others. Elena was kidnapped from a hospital where she worked as a volunteer in the children's ward where she was the reason for the ward's amazing 100% recovery rate. His captors insist that Artur go to work for him, but he refuses, as does Elena. After a powerful shared telepathic experience, Artur and Elena form a bond and escape the facility, taking two imprisoned shapeshifters with them. Now they must anticpate the next step of the shadowy group who is behind the torture project and put a stop to their plans for international domination.
The story of the Dirk & Steele Agency and its mysterious founders is just beginning, and it's clear that Marjorie Liu has an incredible storyline planned for the future. Liu's writing style has the polish and self-assurance of a seasoned professional: her characters are well-rounded and quite compelling. She knows her way around action scenes, too. This gritty, globe-hopping urban fantasy series is one of the hottest new entries on the market today.
Claire E. White
---
Return to Book Reviews Index