Writing Book Reviews
The Internet Writing Journal
,
March 2002
Immediate Fiction by Jerry Cleaver
St. Martin's Press, February, 2002
Hardcover, 507 pages
ISBN: 031228716X
Ordering information:
Amazon.com
|
Amazon.co.uk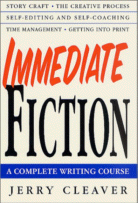 This book takes the form of a professional writing course, complete with exercises and instruction. One of the best things about the course is its help in teaching writers organizational skills and time management, two of the most crucial skills to being able to complete a novel. The book also provides instruction for breaking writer's block, creating a believable story, self-editing, emotion and getting into print.
Author Jerry Cleaver is the creator of the The Writer's Loft, a successful, independent writers' workshop in Chicago. He has also given story seminars and created an online course for
Writer's Digest
. In his book, Cleaver writes about his tools and methods for improving the craft of writing and increasing productivity. Like a good teacher, his tone is encouraging and inspiring. Cleaver also provides numerous writing exercises and a plan to get you writing regularly which starts with writing only 5 minutes per day (surely you can find 5 minutes a day!). One of the concepts behind the book is to get you to understand the creative process, so you are able to sit down and begin writing immediately -- as the book's title suggests. Writers who read this book start to finish should be able to do just that, as well as learn many other things about their writing and the craft of writing. A terrific book for fiction writers. Highly recommended.
---
Write Mind by Eric Maisel, Ph.D.
Tarcher/Putnam, February, 2002
Paperback, 133 pages
ISBN: 1585421367
Ordering information:
Amazon.com
|
Amazon.co.uk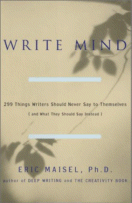 This inspiring book helps writers learn to avoid those negative things struggling writers often say or think. This book lists 299 of this things writers often say, although they shouldn't, and lists what writers really should be saying in place of these negative thoughts. For example, instead of "I wish that my novel were already written," a writer should think, "I am looking forward to the experience of writing my novel." And instead of thinking, "Maybe I could self-publish, but that would feel like such a failure," the writer should think, "Self-publishing is no disgrace and sometimes it's exactly the right answer. Self-publishing is an option." And instead of "I would like to secretly kidnap and torture a literary agent," a writer should be thinking, "Literary agents represent projects that they think they can sell. Nothing could be less mysterious or more impersonal." The short thoughts can help writers with motivation, time management, writer's block, mis-information and positive think.
Write Mind
is a good psychological booster for struggling writers.
---
Writing Book Reviews
Page One
|
Page Two
Return to Book Reviews Index