Reviews of Writing Books
The Internet Writing Journal
,
March 2001
Championship Writing by Paula LaRocque
Marion Street Press, November 2000.
Paperback, 206 pages.
ISBN: 0966517636
Ordering information:
Amazon.com.
Championship Writing
provides instruction and tips for improving your writing. This reference is a collection of fifty columns which originally appeared in
Quill
, the Society of Professional Journalists' magazine. The articles provide advice for print and broadcast journalists, copywriters and business and marketing professionals. Topics cover some of the most common areas where problems and errors occur, including usage, grammar, quotations, headlines, tense, pronouns, commas, clichés, analogies, poetic devices and editing.
Paula LaRocque, assistant managing editor and the writing coach for the
Dallas Morning News
and a frequent speaker on effective communications, has created an excellent collection of concise writing tips. Her practical articles get right to the point, explain the problem, offer solutions and also include helpful examples. LaRocque's writing aide is a much-needed companion for anyone involved in writing, especially freelancers, journalists and communications' professionals.
---
The Complete Idiot's Guide to Publishing Science Fiction by Cory Doctorow and Karl Schroeder
Alpha Books, 2000.
Trade Paperback, 257 pages.
ISBN: 0028639189
Ordering information:
Amazon.com.
|
Amazon.co.uk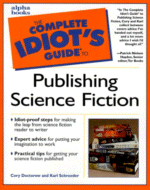 This reference for science fiction writers provides advice about the basics of getting started in science fiction writing, including information about how to create a manuscript, how and where to submit a completed manuscript and information about networking and promotional opportunities. Some of the topics covered include: writer's groups, characters, short stories, novels, short story markets, contracts, writer's organizations, self-promotion, agents and electronic publishing. This reference also provides some great insight into science fiction conventions, science fiction awards and the publishing industry. The book provides numerous tips, sidebars and warnings (from alien and robot icons) which provide suggestions and factoids such as, "Get the word out to local bookstores and libraries by producing and distributing a flier with the times, dates and locations of your book signings, along with your Web address." and "Hard sf is the subgenre of sf in which scientific rigor is an absolute requirement in story-telling." This is a terrific reference for the beginner looking to learn more about the process of publishing a science fiction novel or short story.
---
The Science of Science-fiction Writing by James Gunn
Scarecrow Press, November 2000.
Trade Paperback, 232 pages.
ISBN: 1578860113
Ordering information:
Amazon.com.
|
Amazon.co.uk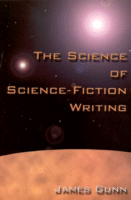 This thorough reference helps writers get to the heart and soul of science fiction writing and learn more about the history of science fiction, its appeal to readers and how to improve their own science fiction short stories and novels. The reference begins with an interesting chapter on why people read science fiction. The next section includes chapters on the art and craft of writing, which covers finding ideas, heroes, heroines and villains, creating suspense, characterization, scenes and dialogue. The book also includes profiles of well-known authors such as H.G. Wells, Heinlein and Asimov. The profiles explore each of these author's writing styles, how they came to write science fiction and what influenced their writing. The appendix in the book provides a valuable collection of a student's notes from a science fiction writer's workshop. The syllabus for the workshop, including readings and assignments, is also provided.
James Gunn, a science fiction novelist, editor and emeritus professor of English at the University of Kansas, has been involved with the science fiction genre for forty years. He conveys a great deal of his knowledge to the reader in concise form in this book. Gunn's instruction is provided in a helpful tone that both inspires and teaches. He also refers to well-known writers throughout the text, including authors such as Charles Dickens, Ernest Hemmingway, Marion Zimmer Bradley and Larry Niven, to help explain the process of writing.
The Science of Science-Fiction Writing
is an impressive writer's aide that serious science fiction writers should have on their bookshelves.
---
Return to Book Reviews Index