Mystery/Thriller Book Reviews
The Internet Writing Journal
,
June 1998
Page Three of Six
Holiday in Death by J.D. Robb
Berkley, June 1998.
Paperback, 326 pages.
ISBN: 0425163717.
Ordering information:
Amazon.com.
|
Amazon.co.uk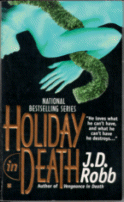 As the year 2058 comes to an end, most people in New York are filling their days with Christmas shopping and making plans for New Year's Eve. But for one crazed serial killer the holidays are simply the setting for his gruesome murders, and it's up to police Lt. Eve Dallas, still recovering from injuries sustained on her last case to find the killer. The victims have one thing in common -- they all had dates at the hi-tech and expensive dating service called Personally Yours. With the help of her charming and talented real estate mogul husband Roarke, her assistant, Officer Peabody, and Officer Ian McNab (who Peabody cannot stand), Eve sets out to stop a killer from striking again while dealing with the demons of her own past which are dredged up by the serial killer's modus operandi.
The incredibly versatile Nora Roberts, writing here as J.D. Robb, has created another fascinating installment in her futuristic suspense series. The Manhattan in the year 2058 that she evokes is both strange and yet eerily familiar. Eve is a complex, multi-layered character who readers will root for as she does her job while dealing with her own tragic past. A real sense of menace pervades the atmosphere in this gritty and compelling tale which will have readers on the edge of their seats until the very last page.
--Claire E. White
---
Killer Calories by G.A. McKevett
Kensington, June, 1998
Paperback, 314 pages.
ISBN: 1575662981.
Ordering information:
Amazon.com.
|
Amazon.co.uk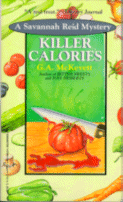 Ex-Georgia cop and current private detective Savannah Reid loves her job almost as much as she hates spa food, so when a local spa owner and former B-movie actress Kat Valentina is found dead in a mud bath and Savannah is forced to go undercover at the spa, she is anything but happy. But her anonymous client is paying well for her time, so she tries to get into the routine of carrot sticks and aerobics classes in order to smoke out a murderer. As Savannah's investigation progresses, she finds a plethora of suspects all with motives to do away with the former disco diva. With the help of her former partner and two good friends who sneak her out of the spa for some real food, Savannah is close to finding the murderer -- if the murderer doesn't get to her first.
Killer Calories
is another winning entry in the Savannah Reid series. Savannah is an outspoken, brash but kind heroine whose outlook on life is always entertaining. A quick and delightful read for those who like their mysteries light and funny.
---
Mystery Reviews
Page One | Page Two | Page Three | Page Four
Page Five | Page Six

Click Here to Return to the Book Reviews Index