Children's Book Reviews
The Internet Writing Journal
,
June 1998
Page One of Two
By Nancy Littlejohn
Bashi, Elephant Baby by Theresa Radcliffe, Illustrated by John Butler
Viking, Jan., 1998.
Picture Book, 24 pages.
ISBN: 0670870544.
Bashi, Elephant Baby Ordering information:
Amazon.com.
|
Amazon.co.uk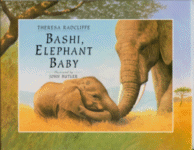 Open this book. Turn to pages nine and ten. Revel in the tawny hues. Gaze deeply into the amber eyes of the lionesses. Observe how they blend into the golden landscape. See their fierce beauty. Know that they are hunters. They are ready to strike. Feel the power of the illustrator in bringing this day on the plains of Africa to life. Now turn back to page one and enjoy the story of Bashi, the baby elephant.
Lorato is the oldest elephant, leader of the herd. She is responsible for the safety of all. Now she has a new one to protect, Bashi, the son of Neo, grandson of Lorato. Even though Bashi is still unsteady on his legs, it is time to go to the watering hole. Neo and Bashi's aunts guide him along. If he stumbles, they help him to his feet. The lionesses are watching and waiting. The warthogs aren't happy with the intrusion of the elephant herd, but they move along. The elephants are thirsty and move quickly into the water. Poor little Bashi has a hard time getting down the muddy banks. His legs seem to be sinking into the sticky mud. They sink deeper and deeper. He is helplessly stuck. Even Neo and the others cannot free him. The lionesses, sensing a weakness in the herd, move in but Lorato charges them. They slink back waiting for another chance. Neo makes one more desperate attempt to free her frantic baby. At last, he escapes the clinging mud. Neo comforts him as she helps up the bank. The other elephants surround him, protecting him within their huge legs. The lionesses would not dare to reach him now. Lorato leads her herd back to the great plain where Bashi can rest and sleep safely. He has survived his first day.
Even though this book is realistic about the dangers of life in the wild, it also portrays the deep sense of protectiveness elephants display toward their herd. Children will find it reassuring to watch Bashi's relatives take great pains to help him and keep him safe. The illustrations enhance the sense of love and responsibility that Neo feels for her baby. She strokes him gently. She protects him fiercely. She works desperately to free him. She will be by his side no matter what the cost. This is the universal comfort all children seek. The illustrations are masterpieces of wildlife art. The animals are there with you. The elephants are majestic. The simple but eloquent text conveys the complex story of life and death in the wild in a non-threatening but realistic way. It does not talk down to children. It is like a beautiful poem, a few words with lots of meaning.
--Nancy Littlejohn
---
I Have Heard of a Land by Joyce Carol Thomas, Illustrated by Floyd Cooper
HarperCollins, May 1998.
Picture Book, 28 pages.
ISBN: 0060234776.
Ordering information:
Amazon.com.
|
Amazon.co.uk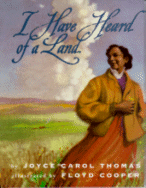 Probably few people outside of Oklahoma have heard of the great land runs of 1889 and1893, but it is an exciting and noteworthy chapter in American history. It was also an amazing adventure for those who took part in it. As Ms. Thomas points out in her author's note, at the shot of a gun, runners, riders or wagon drivers could race as far as he or she could go and claim a stretch of land as his or her own. Many Blacks in the South were drawn to the lure of free land along with the word that the Oklahoma Territory was a place where they could build a new life free from fear, a life of liberty. The Black settlers survived and thrived. Many new Black communities sprang up with their own newspapers spreading the good news. Also, the Oklahoma Territory was one of the few places where a single woman could own land in her own name. For a moment in history, it is the story of cooperation among Blacks, Whites and Native Americans in the West. As one whose own great-grandfather and great-uncle made the run, I found deep personal meaning in this book. I have heard my own family's stories. This book told from another perspective made me proud of my native state.
"I have heard of a land," is the constant refrain of this book. It is a book full of hope and promise. It poetically and accurately describes the landscape and the wildlife. It rings with the hope of the many that were brave enough to leave their homes and strike out as pioneers. But the land is worth the hard work. Freedom is worth the hard work. Dreams coming true are worth the hard work. The illustrations are inextricably tied to the powerful words. We see the race for a piece of land. We see a woman driving her stake to mark her claim with determination on her face. We see all kinds of families. We see their joy and excitement. We see the red earth of Oklahoma. We see houses and sod huts being built. We see them worship outside singing hymns of praise. We see babies and children exulting in their freedom. We see and hear in this glorious and inspiring book that possibilities reach as far as dreams and imagination can carry us. Let us all carry on in this tradition. Amen.
--Nancy Littlejohn
---
Click Here for Children's Book Reviews Page Two
Return to Book Reviews Index