Reviews of Writing Books
The Internet Writing Journal
,
June 2004
Page One of Two
LifeWriting: Drawing From Personal Experience to Create Features You Can Publish by Fred D. White, Ph.D.
Quill Drive Books, April, 2004
Paperback, 224 pages
ISBN: 1884956335
Ordering information:
Amazon.com
Many people are interested in writing life stories, including autobiographical and biographical books and personal experience stories.
LifeWriting
helps readers succeed in this goal. LifeWriting is more than just putting words down on a paper about yourself, a specific experience or someone you know. There are specific steps, processes and methods you can use to make the stories you have to tell more interesting to readers, all of which are explained. The author also covers potention markets for this type of material.
Fred D. White, Ph.D., the author of four books on writing and Director of the Core Composition Program at Santa Clara University, guides writers through the fundamentals, process and selling of lifewriting. His advice will help writers learn how to create or select the best material to write about, learn how to compose the story and learn how to market the finished product. This is an excellent book for anyone interesting in telling a human interest story.
---
When Good People Write Bad Sentences: 12 Steps to Better Writing Habits by Robert W. Harris
Griffin Books, June, 2004
Paperback, 240 pages
ISBN: 0312328044
Ordering information:
Amazon.com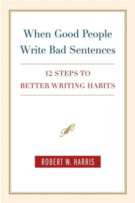 Twelve step programs have been written for many afflictions, from overcoming bad habits all the way to working one's way out of a serious addiction. Now, with Robert W. Harris's book ready to offer an entertaining twelve step program, sentence failure can be overcome with courage and conviction.
Most of us are called upon to write things that will be read by others from time to time. We do not enjoy this chore, and many of us agonize over it, or just try to push the job off onto another person. Yet there is no denying that some of the most successful people in history have also been regular writers. Few of us can hire our own speechwriter. A self-help book is the best way to approach the problem, but reading a book about grammar and writing is a prospect so boring that few of us want to attempt it. Some of us will remember with loathing sitting through sentence diagramming in high school. Mr. Harris has decided to help with a witty guide that not only inserts a bit of levity into the subject, but also gives succinct and easy to follow rules at the end of each lesson.
Get some help. You too may have had your writing skills polluted by the ubiquitous onslaught of advertising copy. All of us have committed a clumsy and incomprehensible sentence from time to time. A good grammar review is aerobics for writing skills.
--Sarah Reaves White
---
The Writer's Mentor: Secrets of Success from the World's Great Writers Edited by Jan Jackman
Random House, April, 2004
Paperback, 246 pages
ISBN: 0375720618
Ordering information:
Amazon.com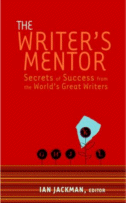 The Writer's Mentor
offers writers expert advice on a variety of writing subjects. Editor Jan Jackman, a writer, ghostwriter, and former managing director of the Modern Library, has done a magnificent job of collecting and arranging famous quotes, along with his own pithy advice and commentary. Using practical and inspirational advice (provided in quotes) from terrific writers like Isaac Asimov, Edgar Allan Poe, Toni Morrison, Margaret Atwood, William Faulkner, Norman Mailer and Tennessee Williams, Jackman offers insight into the writer's craft. Jackman also explores the world of publishing with quotes and thoughts from publishers, editors and agents.
The Writer's Mentor
also discusses different kinds of writing including journalism, poetry, playwriting and screenwriting. This collection of thought-provoking gems from literary greats will assist writers in attaining a greater understanding of the writing process and the publishing business. Highly recommended.
---
Writing Book Reviews
Page One
|
Page Two
---
Return to Book Reviews Index