Reviews of Writing Books
The Internet Writing Journal
,
June 2002
Flip Dictionary by Barbara Ann Kipfer, Ph.D.
Writer's Digest Books, January, 2002
Paperback, 693 pages
ISBN: 1582971404
Ordering information:
Amazon.com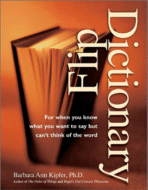 Flip Dictionary
is not a true dictionary in the sense that it does not have complete definitions and pronunciation keys. However, its design makes it incredibly useful for editors and writers. It is more like a thesaurus -- each listing in the dictionary includes references to words with a related or similar meaning (like synonyms). For example, if you look up the listing for writers it says: author, biographer, calligrapher, columnist, composer, copyist, correspondent, composer, etc. People can "flip" back and forth through the dictionary as they discover related words and phrases. This can be helpful if you know the word you want to use, but you are drawing a mental blank. You can simply look up a word with a similar meaning and see if the word you want is listed next to it; if not, you can "flip" around some more until you locate it.
Flip Dictionary
is better than a thesaurus in that it also contains numerous tables with related subjects and words. For example, look up combat sports and you will see a table listing aikido, boxing, fencing, savate, wrestling and many other combat sports. The
Flip Dictionary
was compiled by lexicographer Barbara Ann Kipfer, who holds a master's and Ph.D. in linguistics. For professionals such as editors, librarians and writers who quickly need to find a particular word, the
Flip Dictionary
is a terrific tool.
---
Thinking Like Your Editor by Susan Rabiner and Alfred Fortunato
W.W. Norton, March, 2002
Hardcover, 284 pages
ISBN: 0393038920
Ordering information:
Amazon.com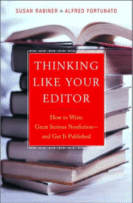 Thinking Like Your Editor
helps writers put together a book proposal and submission package that will get the book noticed by agents and editors. Authors Susan Rabiner, a senior book editor for St. Martin's Press and literary agent, and her husband Alfred Fortunato, a freelance editor and writer, provide anecdotes and tips from their careers, as well as advice and examples of proposals and letters to help writers develop a professional nonfiction manuscript submission package. They also explain the business behind the scenes, including how books are selected for publication. They help writers learn what to put in a proposal, what editors look for in a sample chapter, how to format your table of contents in your book proposal, when it is time to get an agent's help and much more. The second section in the book covers the writing process and includes advice on making an argument, fairness, narrative tension, epilogues and introductions.
Ms. Rabiner worked as an editor for Random House and Basic Books and later become a literary agent. Mr. Fortunato has worked as a freelance editor and book doctor for 25 years. Together, the two authors provide a great deal of information for anyone wanting to write a nonfiction book. Writers must be upset at first to learn that "for the typical serious nonfiction book, which will advance perhaps 5,000 to 7,500 copies into the bookstores initially, publicity opportunities are few and virtually no co-op money is set aside by the publisher." But this kind of information makes writers understand how serious they need to be if they are going to make it in this business -- and how important it is that they get advice from experts like Sabiner and Fortunato. The book helps writers become more knowledgeable about editors, learn book submission techniques and find out where they stand (as authors) in the publishing process. Highly recommended.
---
Writing Mysteries edited by Sue Grafton with Jan Burke and Barry Zeman
Writer's Digest Books, April, 2002
Paperback, 312 pages
ISBN: 1582971021
Ordering information:
Amazon.com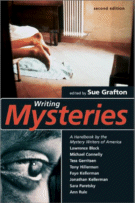 Writing Mysteries
is jam-packed with excellent advice from top authors including Lawrence Block, Jan Burke, Tony Hillerman, Faye Kellerman and Michael Connelly. Edited by bestselling mystery author Sue Grafton (author of the alphabet mystery series,
P is for Peril
, etc.), this Mystery Writers of America (MWA) handbook is a collection of articles by top authors writing in the mystery genre. The articles in the book cover numerous mystery writing subjects. For those just getting started and working on honing their craft, there are articles covering characters, plot, point of view and dialogue. For writers who are ready fto submit a manuscript, there are articles covering editors, markets and literary agents. The book also covers specialty mystery writing topics; an article by Linda Fairsten covers legal thrillers, and Tess Gerritsen covers medical in her article, "The Medical Thriller." As editor Sue Grafton says, "From beginning, to middle, to the rousing climax of your book, we're here, like an army of experts, to offer guidance and assistance." Mystery writers will find that this "army of experts" is good to have around. This is a great collection of advice from the MWA to help and motivate inspiring mystery writers. Highly recommended.
---
Return to Book Reviews Index