Reviews of Writing Books
The Internet Writing Journal
,
July 2001
The Complete Idiot's Guide to Writing Poetry by Nikki Moustaki
Alpha Books, March, 2001.
Trade Paperback, 338 pages.
ISBN: 0028641418
Ordering information:
Amazon.com
|
Amazon.co.uk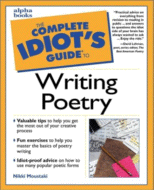 This book for poets contains advice for writing poetry, as well as exercises, resources and information about how to get published. One reason this book is helpful for beginners is that each chapter covers a different kind of poetry and how to approach the writing for that type of poem. There are sections covering imagery, metaphors, repetition, rhyme schemes, narrative poetry, love poems, persona poems, sonnets, haiku, metrical poetry poetry journal and poetry slams. Other sections cover poetry workshops, conferences, colonies, graduate schools, submitting poems and poetry appreciation. The book also includes a helpful chapter which provides answers to frequently asked questions. Exercises are also provided in each chapter for poets to practice their craft and try out what they have learned. The book features special icons throughout the text which highlight important tips, anecdotes, definitions and famous quotes.
The Complete Idiot's Guide to Writing Poetry
is a great introduction to poetry writing for novices which compiles a large amount of information into a clear, concise format.
---
Guide to Literary Agents 2001 Edited by Donya Dickerson
Writer's Digest Books, January, 2001.
Trade Paperback, 388 pages.
ISBN: 1582970114
Ordering information:
Amazon.com
|
Amazon.co.uk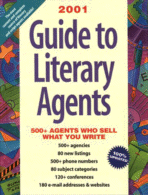 Each year, this writer's guide to literary agents contains more valuable articles and tips, plus detailed listings for literary agencies and agents. A new section in this year's edition is an independent publicist's section which contains articles about book publicity and listings containing information for a dozen publicity companies. The book includes two sections for agent listings, one for non-fee charging agencies and one for fee-charging agencies. Each agency listing includes contact information, a list of member agents, a list of recent book sales, the types of work the agency represents, terms and advice. In the fee-charging section, the listings also include information about the agency's fees. Special indexes in the book help you quickly find agents for a specific genre or a specific region. Other resources in the
Guide to Literary Agents
include a section with information about writer's conferences, a glossary and information about additional reference resources. This useful yearly guide is a must-have for writers seeking representation for a book or screenplay.
---
Return to Book Reviews Index