General Fiction Reviews
Another City, Not My Own by Dominick Dunne
Crown, Nov., 1997.
Hardcover, 384 pages.
ISBN: 0609601008.
Ordering information:
Amazon.com.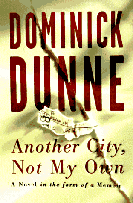 Like nearly everyone else in the United States in 1994 and 1995, Augustus Bailey, a feature writer and columnist for
Vanity Fair
magazine, is obsessed with the O.J. Simpson murder trial. Having written several fictional accounts of notorious high society murders and being a former writer/producer in Hollywood, Bailey's friendships and contacts put him in touch with everyone in the trial, as well as some of the most amazing sources of information about the murderer and his victims. Bailey becomes ensconced in Hollywood's high society while covering the trial, sought out by hosts hoping to dazzle their guests with sumptuous food, elegant surroundings and the latest and most arcane gossip about the most recent "Trial of the Century". Bailey discusses the trial with everyone from notorious Hollywood Madame Heidi Fleiss to Princess Diana while being continually provided with overwhelming information which indicates Simpson's guilt, even from those in Simpson's own camp.
This fictionalized account of the Simpson trial in the form of a memoir is a must-read for anyone who was conscious between June, 1994 and October, 1995. It was impossible not to hear something about the murders, investigation and trial; many of the events became indelible in our nation's history. Did more people watch the low-speed car chase or the first moon walk? Gus Bailey, Dunne's alter ego (
See
,
An Inconvenient Woman
) provides the reader with insight into Dunne's own life through the story's narration -- the horrific experience of having one's daughter murdered, failure and redemption in Hollywood, and small talk with those swell people photographed in
Vanity Fair
and
Town and Country
(they don't drink beer from cans, but they do love salacious gossip just like everyone else!)
Dunne proves to be the ultimate raconteur (and name-dropper) by weaving current events and famous and infamous people into a captivating story. Particularly enjoyable was the improbable introduction of Nancy Reagan and Betsey Bloomingdale to Heidi Fleiss as well as the cameo appearances of Bernard Lafferty and Andrew Cunanan. Whether you followed the Simpson trial closely or tried to ignore it, you'll find enough fascinating true and fictional anecdotes and details in this memoir to keep you engrossed for hours.
--Doug Jacobson
---
Delirium by Douglas Cooper
Hyperion, Feb., 1998.
Hardcover, 256 pages.
ISBN: 0786863412.
Ordering information:
Amazon.com.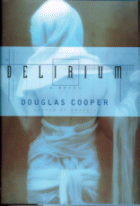 Ariel Price, world-renowned architect whose lasting legacy will be the dark, glass, impossibly tall International Style buildings with which he has infested the world's major cities, is enjoying his retirement, basking in the glow of his impending canonization into the architectural sainthood when a fax appears. A brash young biographer informs him that he has discovered the darkest secrets of Price's life and will reveal them to the world in his new unauthorized biography of the architect. Given the number and depth of the ghastly secrets that lie in Price's past, the decision is clear. The biographer must die and Price must carry out the murder.
As the story unfolds through multiple viewpoints, the characters who are inextricably intertwined with Price's life appear: Bethany, the ill-fated runaway who spurns Price's advances for those of Price's brilliant but deformed assistant; Scilla, the exotic performance artist who inhabits one of Price's creations, an underground mall; and Theseus Crouch, the man who would destroy Price's greatest creation -- his reputation.
Slyly amusing, horrifying, moving and memorable,
Delirium
, the follow-up to Cooper's first novel -- the critically acclaimed
Amnesia
-- is a study of themes across time: greed, prostitution (in all its forms), the endless nature of choice, the origins of modern architecture, redemption and death. Cooper explores his themes through the eyes of many characters who seem to be living parallel lives. A former architecture student himself, Cooper's running commentary on the state of modern architecture is wickedly amusing and the narration, while somtimes abstruse, is fiercely compelling. A morality play which raises disturbing questions about the nature of greed, evil and even of modern architecture,
Delirium
is a spellbinding and shocking tale you won't soon forget.
--Claire E. White
---
Return to Book Reviews Index