Fantasy/SF Book Reviews
The Internet Writing Journal
,
February 1998
A Canticle for Liebowitz by Walter M. Miller,. Jr.
Bantam Books., Oct., 1997.
Hardcover, 368 pages.
ISBN: 0553379267.
Ordering information:
Amazon.com.
|
Amazon.co.uk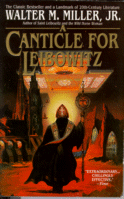 A Canticle for Leibowitz
was the first major American post-Apocalyptic novel. It tells the story of the Monks of the Order of Saint Leibowitz whose holy mission is to preserve what scraps of literature, knowledge and technology that exist in the world after the Flame Deluge (nuclear war) which destroyed Earth's civilization. The monks work tirelessly to preserve these relics of a happier time in the hopes of a spiritual and intellectual Renaissance that sometimes seems like it will never happen, given the world's rabid anti-technology views stemming from anger at the scientists who created the atom bomb which led to the destruction of modern civilization. The story traces the path of Earth's civilization from post-Apocalyptic confusion to the rise of civilization to the point where it destroyed itself once before. Can man overcome his own self-destructive tendencies? What is faith? These are the questions Miller addresses in his classic work full of anger, dark humor and the struggle between good and evil.
Miller's classic story, written nearly 40 years ago and reissued by Bantam in connection with Miller's new sequel,
Saint Leibowitz and the Wild Horse Woman
, rings as true today as it did in 1959 when it was first published. Miller's style of writing is unique. Wry, descriptive, engaging and vastly disturbing, Miller's prose hurls the reader into a parallel universe: Earth as it might have been if we had destroyed ourselves with nuclear weapons. The story follows the lives of the Monks of the Leibowitz Abbey from the discovery in an abandoned bomb shelter of the actual relics of Saint Leibowitz, the blueprint and the sacred shopping list, to the struggles of the Monks against the violent warlords who rule the world around them and the dispossessed Papal presence in New Rome. A thoughtful polemic which reads as fresh and current as if it were written yesterday,
A Canticle for Leibowitz
ranks with
Animal Farm
and George Orwell's
1984
as a classic work of English literature and of science fiction.
---
St. Liebowitz and the Wild Horse Woman by Walter M. Miller,. Jr.
Bantam Books, Nov., 1997.
Paperback, 432 pages.
ISBN: 0553107046.
Ordering information:
Amazon.com.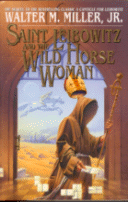 After Walter Miller wrote his classic work,
A Canticle for Leibowitz
, he virtually disappeared from the literary scene. A recluse, Miller, despite overwhelming requests from his fans, refused to publish another work. Finally, in 1989, he agreed to write a second novel. In 1995 it became clear to Miller, who was in his 70s, that he was unable to finish the last 100 pages of the book he had been working on for seven years. He hired noted science fiction writer Terry Bisson to complete the book using Miller's outline and scripted dialogue. Tragically, Miller committed suicide soon after. Bisson persevered and the result is
Saint Leibowitz and the Wild Horse Woman
, a tale set in the 34th century of the world described in
A Canticle for Leibowitz
. Bisson did an excellent job on a difficult task; his work is truly transparent.
Saint Leibowitz and the Wild Horsewoman
tells the tale of Monk Blacktooth St. George. An unhappy resident of the Leibowitz Abbey, St. George is suffering a crisis in faith struggling between the dictates of his Nomad upbringing and his religious vows and his increasingly secular visions of the wild horsewoman, a myth from his childhood. Offered a way out of the Abbey without renouncing his vows (which would result in him becoming a pariah, St. George is assigned to be the translator for Cardinal Brownpony. Traveling with Cardinal Brownpony to New Rome for the election of a new Pope he is thrust into a maelstrom of political intrigue and secular temptations, long forbidden by his vows.
St. Leibowitz and the Wild Horsewoman
is a longer and more complex tale than
A Canticle for Leibowitz
, more of a close-up view of one time period out of the many covered in the original novel. The humor, the symbolism and the social commentary are vintage Miller, although the pace is much slower and the supporting cast is much larger than that found in
A Canticle for Leibowitz
. Miller's storytelling skills still shine and his characters pulse with eccentric life. An intriguing tale from a talented, yet troubled, author.
---
Someplace to be Flying by Charles De Lint
Tor, Feb., 1998.
Hardcover, 384 pages.
ISBN: 0312858493.
Ordering information:
Amazon.com.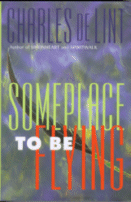 In the fictional North American town of Newford, Lily, a photojournalist, and Hank, a taxi driver meet in an unexpected encounter when Hank tries to save Lily from a violent assailant. Things look pretty grim when they are both saved by two mysterious girls who kill the assailant and magically heal their wounds before disappearing into the night. As Lily and Hank try to make sense of the odd encounter they come to realize that their mysterious saviors weren't human at all; they are animal people, the shapeshifters described in Native American myths and legends. As Lily and Hank delve more deeply into the mystery of the existence of the animal people and why only certain people can see them they realize that not all the animal people are benevolent and that they are in danger from a rival faction. Now Lily and Hank, with the help of their newfound friends must find out what the evil animal people are after and how they can thwart their plans which, if successful, could have devastating consequences for the entire world.
Charles de Lint, acclaimed for his work as a pioneer of the urban fantasy movement, has created another stunning tale of magic, love and the search for meaning in our modern-day existence. De Lint's greatest gift is his ability to weave ancient myths into the fabric of contemporary urban life, resulting in a compelling, complex story.
Someplace to be Flying
is a captivating look at a magical world that enlightens as much as it entertains.
---
Return to Book Reviews Index