Romance Book Reviews
The Internet Writing Journal
,
February 2006
Blood Moon Over Britain by Morag McKendrick Pippin
Leisure Books, December, 2005
Paperback, 323 pages
ISBN: 0060792469
Subgenre: Historical
Ordering information:
Amazon.com
|
Amazon.co.uk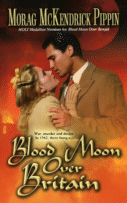 In early 1942, things aren't looking so good for Britain. World War II is in full swing, but the Americans haven't yet entered the conflict. London is under constant air attacks and food is being rationed. Cicely Winterbourne works at Bletchley Park on a top secret code-breaking project. When members of the code-breaking team start showing up dead, Scotland Yard Special Branch Inspector Alistair Fielding wants to know why. And when he finds ex-soldier and current Bletchley employee Graham Mason dead in his bath of an apparent suicide, his interest immediately turns to Cicely, who is Graham's cousin and co-worker. Cicely can't tell Alistair anything about her work (it's top secret) and so she decides to investigate on her own. Alistair and Cicely get along smashingly, but they don't trust one another one bit. Meanwhile, a murderer is on the loose. Cicely and Alastair eventually do team up, but Alistair doesn't much care for espionage and intrigue: he's more of a straightforward soldier than a spy who can lie at the drop of a hat. Still, he does find Cicely to be the most intriguing woman he's ever met.
Morag McKendrick Pippin takes readers right into the heart of the London Blitz with this exciting historical romance. Ms. Pippin has all the lingo and historical details down pat: the atmosphere is authentic. But it is the intrepid Cicely and her feisty Scottish inspector that take center stage here. With edge of your seat suspense, a fascinating mystery and an appealing heroine,
Blood Moon Over Britain
will thrill both romance and historical fiction fans.
---
Let It Be Love by Victoria Alexander
Avon, November, 2005
Paperback, 384 pages
ISBN 0060593202
Subgenre: Historical
Ordering information:
Amazon.com
|
Amazon.co.uk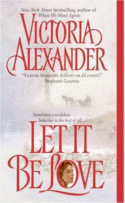 Fiona Fairchild is in a difficult situation: in order to obtain her inheritance without being married off to someone horrible she simply must find a husband. She sets her cap for Jonathon Effington, the Marquess of Helmsley who everyone says is a terrible rake, but since he never kisses and tells no one really knows for sure. Jonathon knows that a man of his social standing must find a suitable wife himself, but he wants to put off the shackles of marriage for as long as possible. When Jonathan shows up at his yearly Christmas tryst with a lady friend he is shocked to discover Fiona instead. She spins him a wildly improbably tale (that happens to be the truth) and proposes marriage. He, thinking it is an outrageous joke arranged by his friends, agrees. A man of honor, he is horrified to find out that Fiona was deadly serious and expects him to march down the aisle. He does like Fiona, but the idea of marriage so soon is just a bit more than the charismatic marquess can handle. So he concocts a business scheme with Fiona and a good friend to publish a risqué book that will give Fiona the money she needs and relieve him of the necessity of marrying her. Still, the more he gets to know Fiona, the less revolting the idea of marriage becomes.
Victoria Alexander is like a breath of fresh air in a stuffy, overcrowded room. Her writing is full of wit and style and her heroines are full of intelligence and sass.
Let it Be Love
is as much a comedy of manners as it is a passionate romance, with sparkling dialogue and appealingly complex characters that are a joy to spend time with.
---
The Manolo Matrix by Julie Kenner
Simon & Schuster, February, 2006
Paperback, 352 pages
ISBN 0743496140
Subgenre: Contemporary
Ordering information:
Amazon.com
|
Amazon.co.uk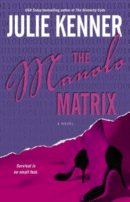 Jennifer Crane is an aspiring Broadway actress and singer who makes her living waitressing while waiting for her big break. After losing out at an audition, she's determined to make her dreams come true. But her life is about to change in a very shocking way. A few years ago, she signed up to play the Internet game, "Play-Survive-Win" but she never actually played. In the game, there are a Target, a Protector and an Assasin. In
The Givenchy Code
, someone brought the game into real life -- if the Protector doesn't save the Target, the Assassin gets a rich reward and they both die. If they stop the Assassin, they retire rich. Of course, it's all wildly illegal, but there doesn't seem to be a way to stop the game. And if you don't participate, you get killed. Jennifer gets notified that the Game has started and that she is the Protector of suspended FBI agent Devlin Brady who has some experience with the game. The two eventually team up to stop the Assassin, looking for clues all over New York City in a frantic race to stay alive -- and buy some great shoes along the way.
The Manolo Matrix
picks up where
The Givenchy Code
left off, but it reads equally well as a stand-alone title. The assassin, Birdie, is a hard-edged aggressive woman who really loves her job. Now that's she's out of jail, she's looking forward to killing Devlin (who helped put her in jail) and collecting her millions. The story alternates between Devlin's, Birdie's and Jennifer's point of view, making for very interesting contrasts of how the three characters view the same events. The two women couldn't be more different in their taste, outlook on life, moral values -- and their taste in shoes. This is a sexy, fast and funny chick lit thriller that really isn't like anything else you've ever read. Next up is
The Prada Paradox
, in which the author promises to reveal all about the mysterious brains behind Play.Survive.Win.
---
Return to Book Reviews Index