Lifestyle Book Reviews
The Internet Writing Journal
,
February 2006
The Complete Idiot's Guide to Business Letters and Memos (2nd ed, book and CD-Rom) by Tom Gorman
Alpha, November, 2005
Trade paperback, 324 pages
ISBN: 1592574246
Ordering information:
Amazon.com
|
Amazon.co.uk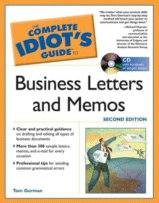 One of the most surprising things that many supervisors discover is that their new employees can't write a simple business memo or letter. There are certain rules for business writing, and knowing what they are can put you ahead of your competition. Tom Gorman tackles the subject of business communications in this Second Edition of
The Complete Idiot's Guide to Business Letters and Memos
. He begins with his three step process for writing: decide what to say, say it and then edit what you said. He then gives detailed instructions and rules for creating business letters, memos, emails, query letters, collection letters, thank you notes, letters of recommendation and and other typical business missives.
Gorman addresses common grammar errors, formality issues and even what to do when you're writing to a business associate who uses British English instead of American English. He also adds "Signposts along the way," which are sidebars about pitfalls, Tricks of the Trade and helpful "FYI" nuggets of information. A CD-ROM is also included, which has many samples of good business writing. This is an absolute must for anyone who's just graduated from college, just starting a new job or who is looking to improve his writing skills in the workplace.
---
The Triple Whammy Cure by David Edelberg, MD
Free Press, December, 2005
Hardcover, 322 pages
ISBN: 0743269071
Ordering information:
Amazon.com
|
Amazon.co.uk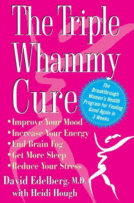 Dr. David Edelberg, the chief medical adviser of WholehealthMD.com saw many women in his practice that had the same symptoms: exhaustion, depression, brain fog stress, an inability to lose weight and a general sense of not feeling good. Edelberg says they are suffering from what he calls the "triple whammy": hormone imbalances, low serotonin levels and stress. Dr. Edelberg proposes a Triple Whammy Cure: a three week program that incorporates lifestyle changes with nutritional supplements to boost serotonin levels.
Edelberg takes a holistic approach in his practice; he advocates yoga, meditation, aromatherapy and other stress-relief methods. He also takes aim at the typical American diet and smoking, both of which have disastrous effects on women's' moods and health. He advocates a very healthy diet which includes brain-boosting blueberries, nuts, high-quality carbohydrates, soy and vegetables. He also tells readers where to go to get further help. The program he advocates is healthy and balanced. So even if women who don't choose to participate in biofeedback or meditation, should still see a substantial benefit from the diet changes and exercise suggestions.
---
Return to Book Reviews Index