Romance Book Reviews
The Internet Writing Journal
,
February 2005
Hot Target by Suzanne Brockmann
Ballantine, December, 2004
Hardcover, 383 pages
ISBN 0345467930
Subgenre: Contemporary
Ordering information:
Amazon.com
|
Amazon.co.uk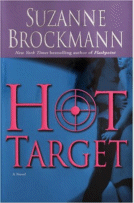 Jane Mercedes Chadwick has worked hard to cultivate her image as Hollywood's hot "Party Girl Producer," but it's starting to take a toll on her. For one thing, she'd rather be in jeans and a t-shirt than tottering around in sky high Manolo Blanicks. But it is the negative reactions to her latest film (a War World II biopic of a war hero who happened to be gay), which is worrying her. She's getting death threats from a neo-Nazi group, which objects to the film's positive portrayal of a gay character. Fans of Brockmann's bestselling Navy SEAL series will be thrilled to find out that the strong, silent and mysterious Cosmo Richter has been assigned by Troubleshooter, Inc. to bodyguard Ms. Chadwick and keep her alive during the filming. But Mercedes doesn't want a bodyguard, and Cosmo can't stand the Party Girl Producer. The threats appear to be coming from a terrorist group based in Idaho called The Freedom Network, but the feds are having trouble finding hard evidence to link the group to the death threats. Meanwhile, accidents are starting to happen on the film set, Jane's brother (the star of the movie) is acting really strangely, and Jules Cassidy, the handsome gay FBI agent assigned to the case, has some unfinished business from his past to deal with.
Suzanne Brockmann brews up a heady mix of danger, action, passion and emotion with this latest entry into the Troubleshooters, Inc. series.
Hot Target
brings back popular character Jules Cassidy, who readers first met in
The Defiant Hero
, and gives him his own romantic subplot. Cosmo, the strong and silent SEAL from
Gone Too Far
who is on an enforced one month vacation to take care of his chatty, ailing mother, finally opens up and his scenes with Jane are both funny and moving. As is usual in the Troubleshooteers, Inc. series, the characters are vividly portrayed, the plots are compelling and the writing is excellent. There is enough adrenaline, action and passion here for several books -- and that's what keeps her readers coming back for more.
--Claire E. White
---
Divine Fire by Melanie Jackson
Dorchester, February, 2005
Paperback, 339 pages
ISBN: 0505526107
Subgenre: Paranormal
Ordering information:
Amazon.com
|
Amazon.co.uk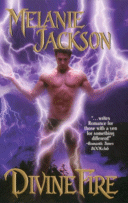 Author Brice Ashton buries herself in her work as a way to keep at bay the sorrow she still feels over her husband's death in a gruesome car accident that also injured her severely. Always a fan of Lord Byron, Brice has now written a comprehensive biography of the British poet and writer. Brice is shocked to receive an invitation from sharp-tongued book critic Damien Ruthven, who has been given an advance reading copy of her new book. Against her better judgement, Brice goes to New York to meet the rich and famous critic who can reduce an author to tears with his beautifully written, sometimes scathing reviews. When Brice meets Damien, she gets the shock of her life. First off, he's young. He's also handsome. And he knows more about Lord Byron than any scholar. Which is not surprising, since he is Lord Byron himself, made immortal by the mad Dr. Johann Dippel who "cured" Byron of his epilepsy that one frightful night, which was later written about by Mary Shelley in her novel,
Frankenstein
. The shock of finding out that her handsome new acquaintance is the poet that she has hero-worshipped for years is nothing compared to the shock that Dr. Dippel -- and his monstrous creations of the undead -- are stalking them.
Melanie Jackson's many fans from her Goblin series (
Traveler
,
Still Life
etc.), will be happy to step into this talented author's latest fantasy, which is a stand-alone. The story of a wounded heroine who spends her days alone with her computer and her literary heroes and a poet and hero from the past makes a unique tale of romance and horror. The gothic atmosphere is very well-done, and Ms. Jackson does an excellent job of bringing Lord Byron to life. Like the late Rod Serling, Ms. Jackson has the ability to begin a story in which events seem perfectly natural. Then, as strange things begin to happen, one after another, the reader is lead effortlessly into the author's fantasy world. It's a wild premise, but Melanie Jackson makes it work, and the romance sizzles.
---
Romance Book Reviews
Page One |
Page Two
---
Return to Book Reviews Index