Reviews of Writing Books
The Internet Writing Journal
,
February 2002
Page Three of Three
The Writer's Guide to Fantasy Literature Edited by Philip Martin
The Writer Books, January, 2002
Trade Paperback, 240 pages
ISBN: 0871161958
Ordering information:
Amazon.com
|
Amazon.co.uk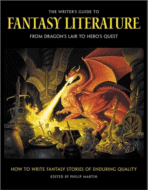 The Writer's Guide to Fantasy Literature
is quite a timely release: fantasy is the hottest genre in the industry, with popular book to film box office hits like
Harry Potter, Lord of the Rings
, and
Shrek
. The book helps writers learn how to craft a fantasy story, with explanations of fantasy styles, tips, examples from fantasy novels and information on how to submit your work for publication. The book also features interviews with top fantasy authors, such as John Marco, Donna Jo Napoli, Diane Schoemperlen, Ursula K. Le Guin, Peter S. Kemper, Terry Pratchett. Sections in the book focus on developing fantasy characters, creating fantasy worlds and plotting. The resource section includes lists of top fantasy markets, reference books and research websites.
Editor Philip Martin has done an excellent job in arranging and presenting this resource for fantasy writers, as well as doing a lot of the writing himself. For example, Martin explains the different fantasy sub genres: high fantasy, adventure fantasy, fairy-tale fiction, magic realism and dark fantasy, in his excellent article, "The Five Golden Rings." A chapter is devoted to each fantasy "ring", which includes tips and author interviews. Martin provides both practical advice and inspiration for aspiring fantasy writers who wish to improve their writing and take it to a professional level. Martin also includes short examples from novels by popular fantasy writers such as Anne Rice, C.S. Lewis, Robert Jordan and Stephen King to illustrate important writing concepts. Another insightful article is "Pottermania: Eight Reasons Why Harry is a Success", in which Martin delves into the phenomenal success of the boy wizard. This is a terrific book for fantasy writers of all levels. Highly recommended.
---
The Writer's Handbook 2002 Edited by Elfrieda Abbe
The Writer Books, September, 2001
Trade Paperback, 1056 pages
ISBN: 0871161893
Ordering information:
Amazon.com
|
Amazon.co.uk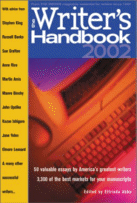 The Writer's Handbook
is a comprehensive annual guide for writers from The Writer Books, publisher of
The Writer
magazine. For years the book was edited by Sylvia Burack, but since the sale of
The Writer
to the Kalmbach Publishing Company, the book is now edited by Elfrieda Abbe, the editor of
The Writer
magazine. Despite the change in editors, the book continues to provide a vast amount of practical information and market listings for writers. This year's edition of the
The Writer's Handbook
includes a preface from bestselling author Frank McCourt. The first part of the book provides over 275 pages of essays about writing from established writers, plus interviews with well-known authors. The second part of the book includes market listings for periodicals, plays, greeting cards, screenplays, syndicates and book publishers. The market listings include contact information, payment information and a brief description of what types of material the market buys. The book also includes listings for literary agents, writing contests, writer's groups, organizations, colonies and conferences.
The Writer's Handbook
is an excellent book for both freelancers and novelists alike: the how-to articles with the market listings make this an indispensable guide for both freelancers and novelists alike.
---
Writing Book Reviews
Page One
|
Page Two
|
Page Three
Return to Book Reviews Index