Mystery/Thriller Book Reviews
The Internet Writing Journal
,
February 2000
Page One of Four
Agatha Raisin and the Witch of Wyckhadden by M.C. Beaton
St. Martin's Press, Nov., 1999.
Hardcover, 196 pages.
ISBN: 0312204949.
Ordering information:
Amazon.com.
|
Amazon.co.uk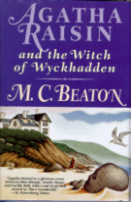 Agatha Raisin is horrified at the state of her hair. Nearly bald after a run in with a murderess (See,
Agatha Raisin and the Wizard of Evesham
), she decides to take a vacation until her hair grows in. She heads off to the seaside resort of Wyckhadden, and books herself into a hotel where she is the only resident under the age of 60. On the recommendation of one of the guests, Agatha visits the local witch and obtains a hair-restoring solution and a love potion. The love potion seems to work -- suddenly, the local police inspector seems quite smitten with her. When the witch is found dead, suddenly Agatha is the prime suspect. Agatha must take on the case to find the real killer; one of the pleasant retirees is clearly a murderer, but who?
This is the ninth entry in the delightful series starring love-hungry amateur sleuth Agatha Raisin. Agatha finds romance in Wyckhadden but, as usual, the course of true love does not run true. She also runs into some very interesting characters, one of whom is a fairly nasty murderer. The Agatha Raisin series is quite addictive, because one can't quite give up hope that Agatha will find true love (though, hopefully, not with the tiresome James Lacey). But it is Agatha's amateur sleuthing style and Beaton's wonderful sketches of life in the Cotswalds and environs which really delights.
---
8.4 by Peter Hernon
Jove, November 1999.
Paperback, 255 pages.
ISBN: 0515127132.
Ordering information:
Amazon.com.
|
Amazon.co.uk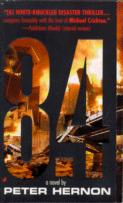 In 1811 and 1812, three earthquakes that would have measured 8.0 on the Richter scale struck the United States in the boot heel of Missouri. The massive impact caused lakes to form in Tennessee, church bells to ring in Boston, and the Mississippi river to run backwards. Bill Atkinson, a scientist with the U.S. Geological Survey, is intrigued by recent reports of unusual animal activity in Kentucky, part of the New Madrid Seismic Zone, the same area that was struck back in the early 1800s. On his way to investigate in his GMC Jimmy, Atkins takes a short-cut when he and the Jimmy are besieged by a mass of rats. He survives the rats, but they are just the beginning of his troubles. When an earthquake does strike at 7.1 on the Richter scale, it causes a great deal of destruction to homes and buildings that were not prepared for quakes. Atkins and other seismologists feel that this was just the precursor to a major, larger invent, like the earthquakes that occurred in the early 19th century, and face stubborn opposition to prove themselves right.
8.4
is a real shocker. Most people don't even realize there is a major fault line in the heartland of our country -- let alone one that generated three massive earthquakes. An exciting thriller that is full of chills, suspense and alarming insight into earthquakes and the massive damage they cause.
---
Mystery Reviews
Page One | Page Two | Page Three | Page Four

Click Here to Return to the Book Reviews Index