Fantasy/SF Book Reviews
The Internet Writing Journal
Page Three of Four
The Right Hand of Evil by John Saul
Ballantine, June, 1999.
Hardcover, 344 pages.
ISBN: 0345433165.
Ordering information:
Amazon.com.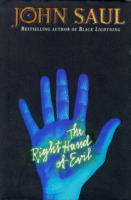 Ted and Janet Conway are having major marital troubles. Ted is an alcoholic who can't keep a job and his wife and three children are miserable when he's around. Then Ted's crazy aunt leaves him a spooky old house in St. Albans, Louisiana and the family seems to have a chance at starting over. Of course, the house has a really creepy history -- Ted's aunt has been in a psychiatric hospital since her husband committed suicide and the disappearance of her newborn child. The house itself is dark and suffocating, but Ted seems like a new man there. He stops drinking and starts renovating the home to turn it into a hotel. But the house has a different effect on the kids. Jared and Kim's mental link is broken, Jared is turning into a juvenile delinquent, Kim is having horrible nightmares and the family keeps hearing a child crying -- but it's not Molly, the baby of the family. The suspense and horrifying occurrences build until the truth is revealed about what is lurking in the house, and controlling yet another generation of Conways.
In the hands of a master like John Saul, the familiar plot of a family moving into a haunted house becomes something new and terrifying. The pacing is fast and the storyline is truly nerve-wracking; a few chapters will have you as nervous as the guy who skipped breakfast and downed three triple espressos at Starbucks. The teenagers are especially well-done, and their experiences will have you glued to the pages. If you're new to John Saul's books, get ready for a lifelong addiction. Highly Recommended.
---
Lord Demon by Roger Zelazny and Jane Lindskold
Eos, August, 1999.
Hardcover, 288 pages.
ISBN: 0380973332.
Ordering information:
Amazon.com.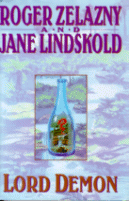 Kai Wren, one of the most powerful Demons banished to Earth from Origin five millennia ago, is renowned for his glassblowing and artistry. He has just finished his greatest creation -- a beautiful glass jar which can hold an entire universe -- when tragedy strikes. His faithful human servant and friend is murdered by some inferior demons. Betrayed by a close friend, Kai Wren is transformed into a human with his beautiful bottle home trashed and his magical guardian fu dogs kidnapped. Suddenly Kai Wren is quite interested in the goings on in the demon community, and fast becomes involved in intricate and complex political games in which he will suffer a great betrayal. With the help of a human magician, Li Paio and his granddaughter, a feng shui master, Kai Wren must stop an evil demon from taking over Origin and murdering Kai and his friends.
This is the second of Zelazny's books which were left unfinished at his death and which were completed by his biographer and friend, the talented Jane Lindskold (
Changer
, Eos). Lindskold does a brilliant job here. The pacing is fast and funny, the world is Zelazny-unique and the characters are fascinating. This is truly one of the most entertaining fantasies to come along in quite awhile. Highly Recommended.
---
Fantasy/SF Reviews
Page One | Page Two | Page Three | Page Four

Return to Book Reviews Index