Fantasy/SF Book Reviews
The Loch by Steve Alten
Tsunami Books, May, 2005
Hardcover, 496 pages
ISBN: 0976165902
Ordering information:
Amazon.com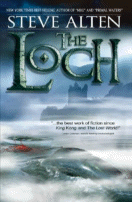 Marine biologist Dr. Zachary Wallace is a rising star in his profession. Widely published, he has no trouble getting funding for a National Geographic sponsored expedition to the depths of the Sargasso Sea to find a rare giant squid, using an auditory lure that he invented. But the expedition goes horribly wrong, Zach nearly drowns and people die. Unfairly blamed for the accident, Zach's career is in tatters and he's spiraling into alcoholism. He also suffers from migraines and intense anxiety. The incident has triggered buried memories of Zach's terrifying childhood experience in Loch Ness, Scotland, where he lived until his parents divorced and his mother moved back to the U.S. Just when Zach thinks he can't sink any further, a long-lost half brother shows up to bring Zach back to Scotland to help their father Angus Wallace, who is on trial for murder. But to save his father, Zach must face old fears and put what's left of his professional reputation on the line.
Steve Alten, who terrified readers with
Meg
the thriller about a surviving
Carcharodon megalodon
(giant prehistoric shark) turns his focus to the Loch Ness monster in this action-packed, exhilarating new book. Alten is known for his thorough research, and he posits a new and very interesting explanation for what might be lurking at the bottom of Loch Ness. Weaving in the Knights Templar and the history of Scotland, Alten creates a story with spellbinding underwater action that is sure to keep readers enthralled -- and thoroughly wary of the water.
---
Return to Book Reviews Index