Computers/Web Design Book Reviews
The Internet Writing Journal
,
December 1997
Page Two of Two
Creating Killer Web Sites, Second Edition by David Siegel
Hayden Books, Oct., 1997.
272 pp. ISBN: ISBN: 1568304331
Trade Paperback.
Ordering information:
Amazon.com.
|
Amazon.co.uk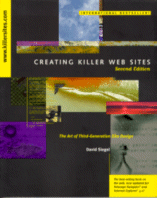 Creating Killer Websites
gives an in-depth view of great web design and describes how to recognize and create great designs. In this expanded and updated second edition, David Siegel offers all kinds of advice which is presented in a friendly, upbeat fashion while offering plenty of visual pictures, graphics and samples. This show-you-how style, aided by well written descriptions and frequent HTML code examples makes it easy to pick up the tips and tricks used by the pros.
Learn what colors to use with text and images and how to effectively reduce the size of graphics so that your site loads faster. Learn what layouts work best on the Internet, the best way to present forms with examples from webpages, how to balance textual content with graphics and much more. Punched up with clever anecdotes, such as the history of browsers and the ending chapter which examines the future of HTML with a look at possible characteristics of 5.0 and 6.0 browsers, this book provides a great read and is an authoritative guide to improving HTML design.
---
Web and New Media Pricing Guide by J.P. Frenza and Michelle Szabo
Hayden Books, Dec., 1996.
295 pp. ISBN: 156830336X
Trade Paperback.
Ordering information:
Amazon.com.
|
Amazon.co.uk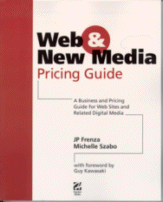 There are thousands of new computer books published each year covering everything from web design to programming. But there has been a noticable gap in the coverage of one of the most important aspects of doing business on the Internet: deciding how to price and negotiate new media projects while maintaining a good relationship with the client. With the explosive growth of the Internet and other new media has come mass confusion in the marketplace - there are no standards upon which to base business and budgeting decisions. How does a design firm price a website or new media design project? What do you put in the business proposal to a new client? What are the pitfalls to avoid when negotiating -- for designers and for clients? Written for individual web designers, design studio and graphics departments that are pitching and purchasing new media and web development services as well as for companies and individuals who are on the purchasing end of these transactions,
Web and New Media Pricing Guide
is the first book to cover these crucial subjects in a detailed and practical way.
The book succeeds on two different levels. On an intellectual plane it gives an excellent overview of the status of the industry, and on a practical level it gives specific instructions for writing proposals to solicit business and developing pricing structures and budgets. Authors Frenza and Szabo use detailed case studies to demonstrate how to achieve your goals and what mistakes not to make, saving you valuable time and shortening the learning curve for anyone in the new media business. Packed with handy forms and information on everything from pricing guides that allow for flexible rates and project management to intellectual property and copyright issues, this is an indispensable resource for both sellers and buyers of web design and new media services.
---
Click Here For Computer/Web Design Book Reviews Page One
Return to Book Reviews Index