Computers/Web Design Book Reviews
The Internet Writing Journal
,
December 1997
Page One of Two
Secrets of Successful Web Sites by David Siegel
Hayden Books., August, 1997.
304 pages. ISBN: 1568303823
Trade Paperback.
Ordering information:
Amazon.com.
|
Amazon.co.uk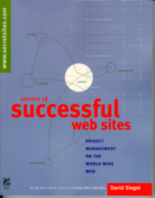 This book starts giving away web secrets in chapter one where it describes in detail the set-up, organization and selling factors that took place in launching the website for Land Rover. This first chapter details the sale of the website to Land Rover, how the site benefits Land Rover and how the site is organized. From this example and those in the chapters that follow the reader is able to gather web secrets from the pros by examples containing pictures and lengthy descriptions. Other chapters in this first section of the book provide examples in a similar fashion for the design of sites like
Salon
, Stoli, Virgin Records, Women's Wire and Porsche. Part II deals with subjects involving web design projects and contracts and the man-hours involved. From the client perspective it answers should you maintain the site or hire someone else should do it? While from the web designers it answers how do I put a proposal together and what should I charge for this project?
Secrets
is full of no-nonsense advice and examples from actual website happenings that include what worked and what didn't and why. The models of websites that flourished work both as a learning tool and as a history of effective publishing in this exciting new medium. Web designers, site owners and business executives will benefit greatly from studying this book.
---
Teach Yourself Dynamic HTML in a Week by Bruce Campbell and Rick Darnell
Sams, Sept., 1997.
508 pp. ISBN: 1575213354
Trade Paperback.
Ordering information:
Amazon.com.
|
Amazon.co.uk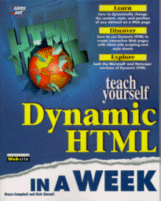 Teach Yourself Dynamic HTML
is an excellent introductory resource into Dynamic HTML which is especially useful to those who already have grasped a solid knowledge of the basic features of HTML and are ready to move onward. The book explains the new features offered with Explorer 4.0 and Netscape 4.0, including scripting, style-sheets and changing elements on a webpage. The book guides you through concepts with increasing complexity. Beginning chapters cover What is Dynamic HTML and Scripting in Dynamic HTML. Later chapters lead you through more complex subjects such as Dynamic Table Generation and Intelligent Dynamic Designs. Chapters include a discussion of the subject with examples and code, followed by a Q & A section which answers questions you might have. Some chapters also include a workshop and/or quiz section to allow you to test your knowledge of the subject.
Dynamic HTML
is an excellent learning tool and reference book. The book also includes a quick reference guide to common code used in HTML 4.0 and JavaScript, VBScript and CSS1. The book also practically explains where and what works with which browser,
i.e.
Explorer or Netscape. A great intermediate level resource which can take you from HTML to dynamic HTML in a short amount of time.
---
Click Here For Computer/Web Design Book Reviews Page Two
Return to Book Reviews Index