Nonfiction Book Reviews
The Internet Writing Journal
,
December 2004
The Rarest of the Rare by Nancy Pick, Photographs by Mark Sloan
HarperCollins, November, 2004
Hardcover, 178 pages
ISBN: 0060537183
Ordering information:
Amazon.com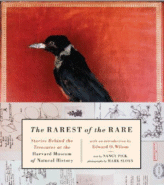 This compelling book contains detailed text and stunning photographs of some of the most interesting and unusual exhibits at the Harvard Museum of Natural History. Readers will discover curiosities like the Harvard mastodon, a papier-mâché model of a giant squid, a rare fossil butterfly, shipworms that ate the Titanic, an elephant bird egg and a pallasite, a meteorite containing translucent crystals. Many of the exhibit entries also have historical significance, like the fossil sand dollar found by Charles Darwin in 1834, Captain Cook's mamo and two pheasants that once belonged to George Washington. Other exhibits show extinct animals like the Cape Verde skink, which went extinct sometime in the early 1900s and the skeleton of a dodo bird which went extinct in the 1600s when humans introduced pigs and monkeys onto their relatively predator-free island.
The Rarest of the Rare
is a wonderful way to peek inside the Harvard Museum of Natural History without ever leaving home. The perfect coffee table book, it would make a delightful holiday gift.
---
Simple Pleasures by Alfred Portale and Andrew Friedman
William Morrow, November, 2004
Hardcover, 262 pages
ISBN: 0060535024
Ordering information:
Amazon.com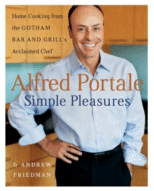 So what do famous chefs cook in their own homes? Alfred Portale, executive chef and co-owner of New York's Gotham Bar and Grill shares 125 of his favorite dishes, or "simple pleasures" as he calls them, in this marvelous and useful cookbook. The book is divided into chapter headings, such as Salads; Starters; Soup, Sandwiches and Pizzas; Pasta and Risotto; Main Courses; Accompaniments and Side Dishes and Desserts. Next to each recipe are Variations and Flavor Building tips, which give the home cook multiple additional options for each dish. Color photographs are provided of the finished dishes, and of some of the prep work. The dishes themselves are fusion in nature; Chef Portale is inspired by Asian, Middle Eastern, Italian and French cooking (except for his Risotto and Pasta dishes -- he sticks strictly to Italian spices for those, saying that he is a purist because of his Italian ancestry). There are quite a few meat dishes, such as Braised Pork With Fennel and Red Bliss Potatoes, Lime and Butter-Braised Fluke, Roast Cod With Escargot Butter, Roast Duck Chinois and Filet Mignon With Madeira Sauce. But vegetarians are not forgotten, and will enjoy Grilled Vegetable, Arugula, and Fresh Mozzarella Sandwich, Lentil Soup With Spinach and Indian Spices, Roasted Chestnut Soup, Whole Wheat Spaghetti, Sautéed Radicchio, Garlic and Parmigiano-Reggiano, and Rigatoni With Cracked Black Pepper, Basil and Fresh Ricotta (that one is very easy to make and especially delicious.) Chef Portale is as inventive as he is talented. And one thing's for sure; anyone lucky enough to receive an invitation to dinner from him should jump at the chance.
---
Wine for Every Day and Every Occasion: Red, White, and Bubbly to Celebrate the Joy of Living by Dorothy J. Gaiter, John Brecher
William Morrow, October, 2004
Hardcover, 406 pages
ISBN: 0060548177
Ordering information:
Amazon.com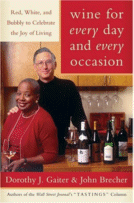 There are two kinds of reference books about wine: the straightforward guides that list grape varieties, vineyards, vintages, and the like that one consults from time to time like a dictionary, and the more personal kind of guide in which the author leads the reader through his ideas of how to choose a wine and how wines have affected his life. This is the second kind of book, and it is most entertaining. Dorothy Gaiter and John Brecher, authors of the Tastings column for the
Wall Street Journal
believe that choosing a wine shouldn't be a frightening experience. Their friendly, approachable style has earned them a multitude of fans.
Their guide is organized by occasions, such as Thanksgiving, weddings wine tastings, Christmas, New Year's Eve, Valentine's Day and the like. Written in a chatty and anecdotal style, the book makes a multitude of suggestions for each occasion providing options for all budgets. But perhaps the most useful part of the book are the lists of practical advice covering what to do when you buy wine at the grocery store, when you buy wine at a wine shop, how to order wine when you travel, what gifts to give to a wine lover (even if you know nothing about wine) and tips for visiting wineries. This is an informative, friendly guide that deserves to be read cover to cover.
---
Nonfiction Book Reviews
Page One
|
Page Two
---
Click Here to Return to the Book Reviews Index