Romance Book Reviews
The Internet Writing Journal
,
December 2003
Outsiders by Melanie Jackson
Love Spell, November, 2003
Paperback, 342 pages
ISBN: 0505525674
Subgenre: Paranormal
Ordering information:
Amazon.com
|
Amazon.co.uk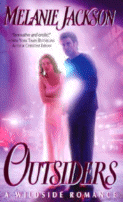 In the alternate reality version of the United States introduced in Ms. Jackson's first book,
Traveler
, goblins (the much unwanted immigrants from France) are slowly infiltrating our government. There is an underground movement to stop the greedy, murdering goblins, but things don't look good for humans. Cyra Delphin is a brilliant scientist who trusted the wrong person; now her discoveries are being sold to the goblins to hurt humans. Part selkie herself and part powerful Moon fey, Cyra has always hidden the fact that she is not entirely human. Now on the run from the goblins, Cyra meets up with Thomas Marrowbone, who is also a powerful fey. Together, Cyra and Thomas set out to take down the goblin headquarters in Sin City (think Las Vegas in Quentin Tarantino's worst nightmares.)
Melanie Jackson is a talent to watch. She deftly combines romance with fantasy and paranormal elements to create a spellbinding adventure. The action is fast-paced, the dialogue is funny and the two protagonists spark like a bonfire on a cold winter's evening. Together with her first book in this series,
The Traveler
,
Outsiders
would make a fabulous gift for any romance fan who likes a little paranormal spice.
---
Shadow Game by Christine Feehan
Jove, September, 2003
Paperback, 323 pages
ISBN: 0515135968
Subgenre: Romantic suspense
Ordering information:
Amazon.com
|
Amazon.co.uk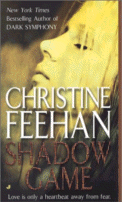 Bestselling author Christine Feehan takes a break from her popular Carpathian romance series with this new stand alone. Brilliant scientist Peter Whitney is the creator of a classified government project which is using elite military personnel as guinea pigs for an experiment in using ESP as a weapon. Captain Ryland Miller volunteered for the experiment, but now realizes that was a terrible mistake: one by one his men are dying painful deaths. Determined to escape from the hellish underground lab in which he is imprisoned, Ryland turns for help to Dr. Whitney's beautiful daughter, Lily, who is also telepathically gifted. Lily and Ryland make an immediate mental connection and plot to release Ryland and his men. But when Lily's father is murdered, Lily finds out some terrible secrets that he had hidden from her. With determined killers on their trail, the two must find a way to expose the corruption that has permeated the entire project and give Ryland and his men their freedom.
Christine Feehan enters new territory with this story of government conspiracies, dark secrets and telepathic powers. This is a fast read, full of action and raw passion. Although Ryland's overpowering, instant attraction to Lily seems a bit much (his dialogue at first makes him sound much too needy), eventually his love is fully reciprocated, both on the physical and mental planes. Other than that one jarring note, the rest of the story falls into place nicely.
---
Romance Reviews
Page One
|
Page Two
Return to Book Reviews Index