Mystery/Thriller Book Reviews
The Internet Writing Journal
,
December 2003
Sensei by John Donohue
St. Martin's Minotaur, April, 2003
Hardcover, 288 pages
ISBN: 0312288123
Ordering information:
Amazon.com
|
Amazon.co.uk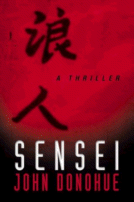 Someone is criss-crossing the USA, killing revered martial arts teachers, leaving the word "Ronin" scrawled on the walls, which means masterless samurai in Japanese. Dr. Connor Burke, an adjunct history instructor at a small university, is also a martial arts expert who studies with the revered Yamashita Sensei. When the murders move to the East Coast, Connor's brother Mickey, a NYPD detective, is assigned to the case and asks Connor for his help in interviewing the notoriously tightlipped martial arts community. When it becomes clear that the murderer is killing the best of the best, Connor is convinced that his teacher knows more about the killer than he is saying. Connor himself becomes a suspect in the killings, because of his high skill level. Now Connor must find this vengeance-seeking Ronin before he kills again.
First time author John Donohue neatly executes this novel which combines detective fiction with the culture of Japanese martial arts. Donohue takes readers behind the scenes into the closed world of the high-level martial arts practitioners: the code of honor and silence, the rigid rules and the incredible skills that are honed over a lifetime of study and practice. The fight scenes are authentic and well-executed and the characters ring true in this outstanding debut.
---
Smoke in the Wind by Peter Tremayne
St. Martin's Minotaur, July, 2003
Hardcover, 267 pages
ISBN: 0312287801
Ordering information:
Amazon.com
|
Amazon.co.uk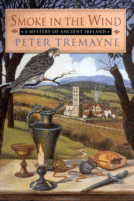 Sister Fidelma is on the case again, to the delight of historical mystery fans. The titian-haired sister of the King of Muman, religieuse and advocate of the Brehon courts of 7th century Ireland is traveling with her companion Brother Eadulf to visit the new archbishop of Canterbury. But their ship is blown severely off course due to an unexpected storm and the duo end up in Dyfed, in what is now South Wales. Brother Eadulf is a Saxon and the Saxons are much hated in that part of the world. Nevertheless, he and Fidelma agree to investigate a mystery when requested by the local king. The inhabitants of an entire monastery have vanished, seemingly into thin air. Locally, a young girl has been raped and murdered. But the young man accused of the crime appears innocent to Sister Fidelma. But when Fidelma begins voicing her views, both she and Brother Eadulf find themselves in some very serious danger indeed.
Peter Tremayne keeps the suspense high in this latest adventure in the popular historical mystery series. Tremayne brings the 7th century alive, with all its clashes of culture, religion and politics. Sister Fidelma is as feisty as ever, and the plot is a brain-teasing puzzle that will challenge your intellect.
---
Mystery/Thriller Reviews
Page One
|
Page Two
Click Here to Return to the Book Reviews Index