Children's Book Reviews
The Internet Writing Journal
Page One of Two
By Nancy Littlejohn
"Let all thy joys be as the month of May."
Francis Quarles
Wow! You can say that again! The children's books chosen for review in this merry month of May are indeed joys. Delights for the eyes, ears and heart, there is a gift from every author and illustrator found in all these books. We have both the 1998 Caldecott and Newbery winners, awards that are not given unadvisedly or lightly, but reverently and deliberately (borrowing heavily from marriage vows); two wonderful books perfect for Mother's Day and adaptations to board book format of Dinosaur Bob and George Shrinks, two already extremely popular picture books now made accessible to younger minds and smaller hands. So without further ado, let's take a whirl around the May Pole and celebrate children's literature at its finest.
---
Angel to Angel: A Mother's Gift of Love by Walter Dean Myers
HarperCollins, April 1998.
Hardcover, 25 pages with photographs.
All Ages.
ISBN: 0060277211.
Ordering information:
Amazon.com.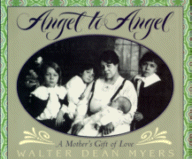 "No tears in the writer, no tears in the reader." Robert Frost.
Walter Dean Myers writes in the moving forward to
Angel to Angel: A Mother's Gift of Love
that the woman who gave birth to him died when he was not quite two, thus he has no real memories of her and no photograph. The woman whom he says became Mother for him is obviously very beloved, and he speaks of the precious moments he has spent with her, but, alas, he has no picture of him with her either. He says that perhaps this book is that picture, and he dedicates
Angel to Angel
to her.
This book overflowing with love and tenderness through Myers' eloquent, evocative poems and deeply moving antique photographs mostly gleaned from his personal collection must have caused him to shed not a few tears for the mother he lost and the mother he gained.
Some of Myers' poems are silly, too. Silly like mothers and children sometimes are when they play together. The faces of the mothers and children and families looking at us from the pages of this book, though anonymous, seem like family. As in Myers' poems, they are universal in their expression of love and hope and togetherness. Meyers has given the world a gift of love with Angel to Angel. Give this book to your mother if you are fortunate enough to still have her. Give it to someone you love. Give it to yourself
---
Dinosaur Bob by William Joyce, author and illustrator
HarperFestival, April 1998.
Board Book, 24 pages.
ISBN: 0694011789.
Ordering information:
Amazon.com.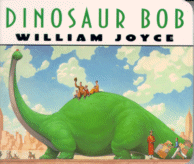 William Joyce is exactly the kind of person most people think of when they think of children's book authors/illustrators: witty, charming, unassuming and imaginative. He also had what has to have been one of the wackiest childhoods ever since, by his own admission, much of what he includes in his books really happened or existed. When I first heard him speak, I spent most of the time in stitches because I think I had a similar upbringing, loving but crazy with a lot of time watching old movies and television. I felt an instant kinship. While his books are written for and loved by children, there are also subtle nuances in them that only adults can understand and appreciate, especially adults who love the culture of the thirties, forties and fifties. Of course, it has always been my philosophy that a truly good children's book is a truly good grownup's book, too. After all, the original
Dinosaur Bob
is dedicated to Nick and Nora Charles and King Kong.
That is why when I first saw
Dinosaur Bob
had been turned into a board book I was a bit dismayed. How could toddlers possibly understand the wit and satire of the story of the Lazardo family and Bob not to mention the fact that the original book is rather long? Not to worry. Joyce has completely adapted Bob's story to suit the toddler set, great admirers of dinosaurs most of whom can say brachiosaurus before cat.
We meet the Lazardos on the first page, an obviously happy family. Haven't we all yearned for a pet dinosaur at one time or another (Mr. Joyce did), and the Lazardo family is no exception. Since they love to travel, too, they set off to find a dino in their jaunty yellow roadster. Sure enough, Scotty Lazardo manages to catch one in Africa (actually Scotty shows up in camp dangling merrily from the giant dino's neck by the rope used to catch him), and they name their new pet Bob. Bob is extremely talented and tons of fun. He can eat four hundred chocolate cakes and seven thousand hotdogs! (Have you ever noticed how small children delight in hyperbole?) The Lazardos triumphantly return home on Bob's back with Dad Lazardo cheerfully doffing his hat. Bob is an instant hit in their hometown, Pimlico Hills. The book has a perfect ending as it re-introduces the Lazardo family, this time including Bob the big green dinosaur.
There's lots for kids to love about
Dinosaur Bob
: colorful, unusual (for children) illustrations; a good story; a dinosaur; lots of tiny detail to examine; a close, adventuresome family and a cozy ending. I predict this will become an instant favorite to be toted everywhere. Good thing it's a board book, isn't it?
---
George Shrinks by William Joyce
HarperFestival, April 1998.
Board Book, 25 pages.
ISBN: 0694011797.
Ordering information:
Amazon.com.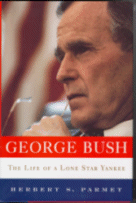 George Shrinks
is the story of George (the middle name of William Joyce's father), a boy who wakes up one morning to find that he has shrunk to the size of his toys (how perfect for a board book format)! His parents have gone for the day leaving him in charge of his baby brother who is now the size of a grownup as compared to George. They also leave a note with a list of chores that George easily could have carried out under normal circumstances, but now present a formidable challenge. Instead of being overwhelmed, though, George takes his new size in stride. With great aplomb and considerable imagination he undertakes his daily routine and his chores. The only thing he needs to watch out for is the family cat that thinks George is now a tasty morsel to be hunted. Of course, the cat's animosity might have something to do with the fact that George dresses his baby brother in Mickey Mouse ears and an elephant nose, stands on his head and scares the cat out of its' wits.
Among the particularly clever maneuvers George dreams up are donning scuba gear to feed the fish, skiing down a dirty plate via sponge to wash the dishes and somehow figuring out a way to climb up into the mail box to check the mail. Luckily enough, he finds a package addressed to him! Gadzooks! It's a swell toy airplane that really works. He just has to give it a spin, but is grounded by an angry not to mention accurate swipe by the cat. Fortunately for George, just as the fearsome feline is about to make the final blow, George miraculously returns to his normal size (again scaring the cat to death), and his parents make a fortuitous return home.
This is the first book William Joyce both illustrated and wrote. The inspiration for the story was a tiny airplane that he found in a box of his old toys. Other real life things he used in the book are his old teddy bear, his desk, a potted plant, and an old electric fan. This is a book everyone should share with a child or other friend. George's shenanigans are all about being a boy taking full advantage of being on his own for a day with a liberal dose of William Joyce wackiness thrown into the mixture. The book doesn't talk down to children with sugary sweetness. Instead it inspires them, even younger readers, to use their own imaginations to think of adventures George could have with all of the other disproportionately sized things Mr. Joyce has included on every page. The illustrations are absolutely hilarious, drawing on Mr. Joyce's own prodigious imagination. What a great idea, too, to have the narrative be in the form of a note left behind by George's unsuspecting parents instead of a more plain vanilla kind of storytelling. As a child, William Joyce loved stories about people who were the wrong size. Fortunately for children and the child in all of us grownups, he retained that love and transformed it into this deliciously entertaining book. (Hint for teachers: When I taught creative writing to children, I used this book as a springboard for them to write their own stories about what it would be like to wake up a different size.)
---
Click Here for Children's Book Reviews Page Two
Return to Book Reviews Index