Children's Book Reviews
The Internet Writing Journal
Page Two of Two
By Nancy Littlejohn
---
Out of the Dust by Karen Hesse
Scholastic, Oct., 1997.
Hardcover, 160 pages.
Reading Level: Ages 9-12.
ISBN: 0590360809.
Ordering information:
Amazon.com.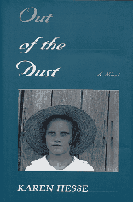 Billie Jo at fourteen is right smack dab in the middle of the Great Depression, the height of the Oklahoma dust bowl years, and her own struggle with adolescence. She is surrounded and immersed and choked and blinded by the omnipresent dust and the unrelenting wind. She's red haired, freckle-faced with a fondness for apples and as she says, a hunger for playing fierce piano. In fact, her only joy in life is playing the piano with gusto and abandon at the Palace Theatre with Mad Dog Craddock, Arley Wanderdale and the Black Mesa Boys. She loves it when folks sway in the aisles, grinning and stomping and snapping their fingers.
Unfortunately, this joy is destroyed all too quickly just like the wheat in the parched, drought stricken fields whenever a dust storm comes. Billie Jo's life is changed forever when her daddy leaves a pail of kerosene by the stove, and her ma, thinking it was water, lifts it to pour to make Daddy's coffee. Instead, she makes a rope of fire that explodes into the pail of kerosene. When Billie Jo's ma runs out to get Daddy, Billy Jo picks up that burning pail of kerosene to try to save their house and throws the fire out the door onto her ma who becomes a column of fire. Billie Jo desperately tries to beat out the flames with her hands but it does no good. Billie Jo's precious piano playing hands get burned almost beyond recognition, and her ma dies in a matter of days along with the baby boy she was carrying. Now Billy Jo must cope with her grief and guilt along with the dust and the wind. Her daddy becomes distant and of no help as he tries to deal with his wife and newborn son's death along with the death of his farm from drought and dust and wind. Eventually, after a brief stint as a runaway, both Billy Jo and her daddy come to realize how much they are alike and how much they need each other. In Billie Jo's words, "Ma had been like a tumbleweed holding on for as long as she could, then blowing away on the wind. My father was more like the sod. Steady, silent, and deep. Holding onto life, with reserves underneath to sustain him, and me, and anyone else who came near. My father stayed rooted, even with my tests and my temper, even with the double sorrow of his grief and my own, he had kept a home."
This book is one that begs to be read aloud. In fact it almost must be read aloud to grasp the true rhythm and beauty of Karen Hesse's free verse poems spoken in the first person by Billie Jo. The eloquence, the pain, the struggle, the fear, the rebelliousness of Billie Jo are captured so well by this narrative device. It is not a poetry book. It is a novel that just happens to be written as a series of poems about Billie Jo's life. Noting the recurring imagery of fire, red, dust and wind are critical to deeper understanding of this book. In fact, many of the poems carry the rhythm of the wind, its' howling force made evident. Also, Billie Jo's fierce piano playing rhythm is in several of the verses. It is all a part of the exquisite whole. As Billie Jo says, "And I know now that all the time I was trying to get out of the dust, the fact is, what I am, I am because of the dust. And what I am is good enough. Even for me."
This is a book that will stay with me forever. Billie Jo taught me many lessons that all of us need to learn. " The way I see it, hard times aren't only about money, or drought, or dust. Hard times are about losing spirit, and hope, and what happens when dreams dry up." Eventually, Billie Jo realizes "that you can stay in one place and still grow." When her father meets a new, special woman named Louise, Billie Jo sees that hope and dreams and even fierce piano playing can return. As the book ends, Louise comes into the house bringing apples in a sack that she arranges in a bowl on the shelf. Billie Jo says, "Sometimes, while I'm at the piano, I catch her reflection in the mirror, standing in the kitchen, soft-eyed, while Daddy finishes chores, and I stretch my fingers over the keys and I play."
I think this book would make an excellent tool for beginning to teach concepts that are critical to understanding literature. There is so much symbolism, both of color and image not to mention foreshadowing, rhythmic patterns that reflect the action and free verse used to its' best advantage.
Just as I think Paul Zelinsky richly and rightly deserves the Caldecott Medal for
Rapunzel
, Karen Hesse richly and rightly deserves the Newbery Medal for the best children's book for
Out of the Dust
. Once again, it is not just a children's book. Everyone run, don't walk, to the nearest bookstore and buy this book for yourself. I think it will become a classic. By the way, make sure you have someone to read it to when you get home or maybe, just read it aloud for yourself.
---
Rapunzel by Paul O. Zelinsky
Dutton, Oct., 1997.
Hardcover, 48 pages.
Reading Level: Ages 4-8.
ISBN: 0525456074.
Ordering information:
Amazon.com.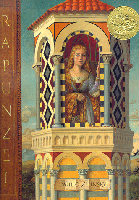 What a book! The kind of book that makes one want to reach out and absorb its' richness. The kind of book that reaches out and takes one in to explore its' delights. The Caldecott is awarded to the best illustrated children's book each year. Paul Zelinsky, another author/illustrator I have had the immense pleasure of listening to, watching draw, and talking with truly deserves the Caldecott Medal for
Rapunzel
. The amount of research he put into both the art and story history is incredible. Most of us are familiar with the rather harsh Brothers Grimm version of the tale where the cruel witch punishes the husband for stealing greens from her garden to satisfy his pregnant wife's cravings by taking their newborn child. Rapunzel is usually portrayed living a lonely and miserable life in a barren tower in a foreboding and deserted part of the world until she meets the prince. The witch catches the pair and pitches the prince out of the tower causing him to become blind and doomed to wander about the wilderness until Rapunzel escapes the evil witch's clutches and saves the prince with her tears of joy.
Well, toss that version out of the closest tower. Rapunzel has her earliest roots in seventeenth century Italy as Petrosinella. Then she appeared as Persinette in the French writer La Force's Tale of Tales. The first German translation was included in a 1790 collection, Kleinen Romane, written by Joachim Schulz. The Grimm brothers, however, attributed Rapunzel to an oral tale in their first collection published in 1812. Mr. Zelinsky tells us in his epilogue that he tried to combine the most moving aspects of the story with the most satisfying structure and the three countries of its' origin in its' illustrations. I think he succeeded admirably. In his retelling of the story, there is still a man and wife who finally conceive a child. The wife develops a craving for some rapunzel from the garden of the sorceress who lives beside them. The husband braves the sorceress to steal some rapunzel from her garden. On his second attempt, the man is caught. When the sorceress finds out why he needs the rapunzel she allows the husband to take as much as he wants but he must allow her to take the child when it is born. In order to save his beloved wife he accedes to the sorceress's request.
As promised, the sorceress appears at the birth of the baby girl, names her Rapunzel and leaves cradling her gently in her arms with a look of profound love on her face. The sorceress is kind to Rapunzel, and we are shown a picture of a happy, dancing little girl being lovingly watched over by the sorceress. When Rapunzel reaches the age of twelve, she is then led by the sorceress to an elegant tower in lush woods yet no entrance so the sorceress can keep Rapunzel for herself.
Years pass and one day a king's son wanders by and hears Rapunzel singing. He learns the trick of getting into the tower by means of Rapunzel's long hair. (I was relieved to see that Mr. Zelinsky devised a hook to wind her hair around before anyone climbed on it. That always bothered me as a child.) They fall in love, but unlike in the Brothers Grimm version, they marry. The sorceress finds out about the deception when Rapunzel asks for help fastening her dress that no longer fits because she is with child. The sorceress is enraged and profoundly disappointed. She cuts off Rapunzel's hair, with a look of sorrow and banishes her to the wilderness where Rapunzel gives birth to twins.
The sorceress fastens Rapunzel's hair to the hook so when the prince comes for his nightly visit she can confront him. If she can't have Rapunzel, then nobody can. He is so struck with grief at the news of Rapunzel's disappearance, he lets go and falls instead of being pushed by a cruel witch as in the Grimms' story. He is blinded with grief and stumbles through the same wilderness as Rapunzel and the twins. Finally, one day he hears Rapunzel's voice. Her tears of joy cure his blindness. He not only gets to gaze upon his twins for the first time, but he also sees that they are near his kingdom where they go to live a long and happy life.
Although Mr. Zelinsky says he felt humbled by the experience of attempting Italian Renaissance painting, every time I turned a page I felt as though I were back in Art History class seeing the works of Raphael, Titian, Michaelangelo and Leonardo Da Vinci. In fact, Rapunzel herself reminds me of Botticelli's Venus.
Zelinsky's use of lush colors in rich, jewel tones; his minute detail in each illustration; his contrast of dark and light; his use of architectural images (note the sorceress's garden); the glowing luminescence of skin tones all accurately reflect the style of Italian and French Renaissance art. Rapunzel's tower is an intricate magical puzzle looking small on the outside but with spacious rooms on the inside.
Leonardo once said that the highest aim of painting is to depict the intention of man's soul. Once again, I think Mr. Zelinsky has achieved this for his characters' facial expressions are stunning. In one of the most beautiful illustrations where Rapunzel and the prince are marrying both faces truly show all of the love that each feels for the other. In another dazzling painting, we see in the sorceress's face the fear of losing Rapunzel combined with her feelings of failure at keeping her beloved adopted daughter away from the world.
Paul Zelinsky's
Rapunzel
is an illustrating and storytelling tour de force where the illustrations mesh with and enhance the narrative to combine as one marvelous work of art. To quote Mr. Zelinsky, "It would please me if my pictures served in some measure to spur an interest in the magnificent art form from which I have drawn. My great hope, of course, is that this book may give pleasure to readers in and of itself." Mr. Zelinsky, congratulations. You have done it.
---
You're Just What I Need by Ruth Krauss pictures by Julia Noonan
HarperCollins, March 1998.
Hardcover, 29 pages.
Picture Book.
ISBN: 0060275146.
Ordering information:
Amazon.com.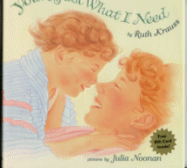 One of my favorite and earliest childhood memories is snuggling as close to my mother as I possibly could in her rocker while she read to me. We rocked and read and rocked and read for what seemed like forever sometimes, but it was never long enough. We didn't call it bonding back in the early fifties, but it surely was just that. Ruth Krauss's books were often part of my mother's repertoire. In fact, I still possess a very tattered copy of
A Hole Is To Dig
. This reissue of
You're Just What I Need
(The Bundle Book) is a perfect example of both Krauss's enduring charm and the special bond between mother and child. Julia Noonan's luminous pastel illustrations bring new life to this classic about a mother and her baby playing hide-and-seek. One can just hear that special belly laugh toddlers get when they're having the time of their lives. The darling blue chenille blanket that's hiding the baby wriggles every time the mother can't guess what the bundle is that's in the middle of her bed revealing tiny toes or a lock of hair. There is a very huggable looking plush doggie in every scene that acts out the amusing imaginary picture of the mother's guesses. He's in the laundry basket or dressed as the bunny with the bundle of carrots or suited up as an aviator flying on the back of the bird. We're also shown real pictures of all the guesses like carrots or a monkey (the cutest monkey I believe I've ever seen in a children's book) or a bird. The child being read to has a dual level of visual stimulation that can serve as a cue for extra conversation and guessing as you read to him/her.
Children this age love repetitive refrains and those are provided as the mother makes her many guesses of just what is in the bundle, and the hidden child answers with a no for each wrong guess. At the end there is a parade of all the wrong guesses, the bird, the laundry, the monkey, etc. just before the baby with sparkling blue eyes, curly auburn hair, and baby pearl teeth pops out from under the blanket to surprise the mom. The last illustration is of the mother and baby exchanging a tender kiss and hug while the mother says, You're just what I need, something all children want to hear. This book would make a great Mother's Day present whether to a new mom or one whose baby has babies of her own. It's beautiful, touching, comforting and nostalgic. (By the way, if you do want to give it as a gift there is a matching card included at the back of the book.)
---
Click Here for Children's Book Reviews Page One
Return to Book Reviews Index